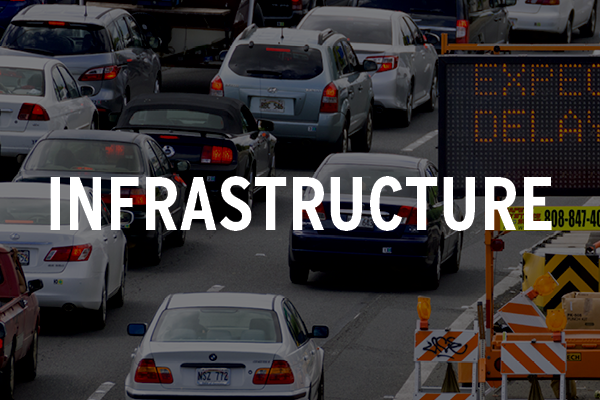 Since 1991, California's population has increased 31%, resulting in a 36% increase in vehicle miles traveled on the state's streets and roads.
In addition, the average fuel mileage has increased approximately 37% since 1991, meaning that for every mile traveled on state highways, less gas tax is being collected.
That same gas tax won't buy as much as it once did. Today it costs about $180 to buy the same amount of asphalt or concrete that $100 would buy in 1991.
Why is 1991 significant? That was the last time there was an increase in the gas tax, which provides the majority of state funding for California streets and roads.
Considering these facts together, it's no wonder California roads are in dire need of repair and congestion is getting worse.
A more comprehensive approach is necessary now to fund the state's highway infrastructure needs.
As the legislative session comes to a close, legislators are considering a mix of funding options, including proposing fees in addition to the gas tax to address the fact that high-mileage vehicles are going to be even more prevalent on California roads in the future, and to capture revenue from other vehicles that pay no gas tax. Also under consideration is one-time funding for transportation-related loan repayments, and agency efficiencies and reforms to make each transportation dollar spent go further.
A significant challenge is creating a proposal that will appeal to California voters.
Roadway Needs
Numerous studies and reports concur that the state's infrastructure is undersupplied by billions of dollars each year, resulting in a transportation system consistently ranked at or near the bottom of the nation in terms of maintenance and overall performance.
The most recent Needs Assessment conducted by the California Transportation Commission found 58% of the state's roadways require rehabilitation or pavement maintenance and 26% of California bridges require major maintenance, preventive maintenance, or complete replacement.
The Federal Highway Administration estimates California will need about $70 billion to modernize and fix its highway systems and another $118 billion to widen its busy highways.
The lack of investment in the transportation system has serious consequences for California drivers and businesses. Substandard roads cost drivers and businesses billions of dollars a year in repairs and lost time due to congestion.
Funding Dilemma
As mentioned previously, the funding issues arose due to the relative decline of revenue from the tax on fuel versus the increase in construction costs.
This decrease in revenue coupled with the increase in construction costs has created a significant revenue shortfall. As a result, many maintenance projects have been deferred, further compounding the issue as streets, roads and highways that are not properly maintained necessitate costlier rehabilitation and reconstruction—up to 10 to12 times the cost of maintenance.
Road to Answers
The state needs a comprehensive, well-financed, dependable and efficient transportation financing mechanism that allows for maintenance of deteriorating infrastructure, encourages new construction projects, and ultimately creates well-paying and reliable jobs for Californians.
California's continued economic development will be closely tied to an improved transportation system, both for workers and students commuting to jobs and classes, and for the movement of goods around the state and to our international seaports and airports.
Challenges to new transportation funding proposals remain, however, as many voters continue to resist increased fees and taxes.
To overcome this challenge, the Legislature should look to local transportation funding measures for guidance on how to build trust with the voters. The local measures tend to pass when local officials successfully make their case to constituents by identifying the specific need for and benefits of transportation projects, and ensuring there is transparency in how the funds will be utilized. The Legislature must take this approach in developing its final proposal.