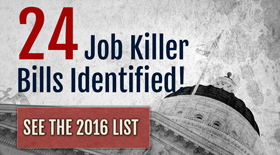 The California Chamber of Commerce has identified a 24th job killer bill that exposes employers to excessive, costly litigation.
AB 2895 (R. Hernández; D-West Covina) inappropriately exposes employers to increased litigation costs by adding a private right of action, the risk of class action lawsuits and Private Attorneys General Act (PAGA) claims related to the employer's written Injury and Illness Prevention Program (IIPP) by requiring employers to provide their employees or their representative a written copy of the IIPP, a violation of which, in certain circumstances, is subject to injunctive relief.
The CalChamber has identified AB 2895 as a job killer because the bill imposes a new private right of action, an enforcement action that provides free discovery for trial attorneys, and increases the risk of class action lawsuits—all at a cost to employers where there is no risk or harm to employees.
AB 2895 requires employers to provide their employees with access to the IIPP, along with various other provisions, including a provision to allow an employee or his/her authorized representative to request a written copy of the IIPP.
CalChamber explains in its opposition letter that a failure of the employer to provide the written copy would be subject to Cal/OSHA enforcement, or injunctive relief that would require the employer to appear in court. This provision would provide a pathway for harassment of employers, and allows multiple requests from multiple employees and representatives. The bill does not consider the burden on the employer in handling multiple requests.
The provisions of AB 2895 would also be subject to enforcement and attorney fees through PAGA (Labor Code Section 2698 et seq.), which allows employees to pursue civil penalties through the legal system when agencies do not have the resources to do so. PAGA is used extensively by California employees.
The Governor's Proposed Budget for 2016 indicates there were more than 6,000 PAGA notices filed with the Labor and Workforce Development Agency in 2014. As a result, the Legislature has passed and the Governor has signed several bills to reform PAGA. Passing AB 2895 would be contrary to the direction of the Legislature and the Governor to reform PAGA.
The provisions of AB 2895 are overly burdensome and punitive, particularly in light of the fact that this information will be of no use to employees because it consists primarily of the operational and logistical details of the employer's plan. Employees that do not access the written IIPP are not harmed and are not at risk of injury or illness, and no need for this bill has been demonstrated, the CalChamber letter states.
AB 2895 is on the Senate Floor.
To view the job killer list, visit www.cajobkillers.com.
For up-to-date information on the job killer list, follow @CAJobKillers on Twitter.