To help employers make a smooth transition to the new year, the California Chamber of Commerce is offering new laws updates in a variety of formats.
As reported on the HRWatchdog blog this week, HRCalifornia has been updated with new compliance content on subjects like California's expanded Fair Pay Act, new piece rate legislation, changes to leave and benefit laws, plus new laws affecting hiring practices.
CalChamber employment law experts are on the road with live seminars scheduled throughout the state. Seminar attendees will receive a handout on important cases and new laws.
Interested readers who can't attend a seminar can choose to attend a live webinar.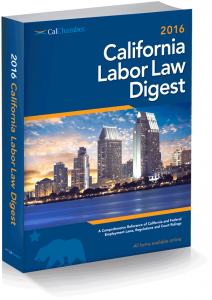 The 56th edition of the California Labor Law Digest is available as a book or as a download for PC or Mac. As the only book of its kind serving California business, this up-to-date, comprehensive digest provides instructions on how to apply existing laws and manage everyday HR issues, such as performing job evaluations, implementing a policy to prevent workplace violence, and handling accessibility inspections.
The Digest also explains federal employment laws, regulations and court cases. Updates to guidance on wage-and-hour compliance and managing social media in the workplace are covered as well.
More information about the Digest, the seminars and webinar is available at www.calchamberstore.com.