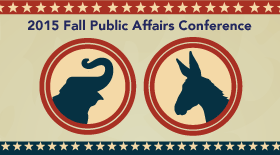 Political insights galore were one takeaway from the California Chamber of Commerce Fall Public Affairs Conference on November 3–4.
Insiders from both major parties, journalists, legislators and reform activists traded opinions, facts and predictions about the upcoming election year.
More photos appeared in the November 6 Alert. Detailed coverage on the sessions is available at www.calchamber.com/publicaffairs.