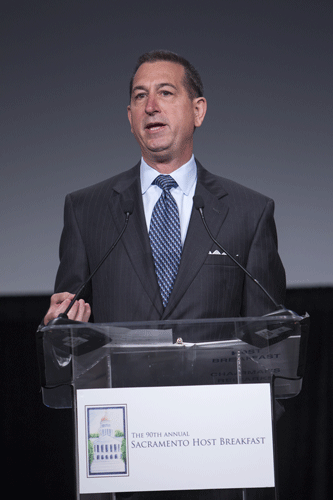 Following are remarks presented by Joseph M. Otting, 2015 chair of the California Chamber of Commerce Board of Directors, at the 90th Annual Sacramento Host Breakfast on May 28. Otting is president and chief executive officer of OneWest Bank N.A., Pasadena.
What a pleasure—you know, 90 years. When you think about 90 years of something occurring, it's got to be magical for that to carry on. And I also just want to offer my congratulations to the ladies and gentlemen of the Armed Forces… really, thank you for all that you do and the sacrifices that you and your family make… it's tremendous. It's why we're free and we're here today.
I'd also like to acknowledge the support of the CalChamber for the breakfast. This …we were trying to scurry and find out, but we were able to document that this is over 50 years that the Chamber has supported the breakfast. So Allan [Zaremberg, CalChamber president and CEO], thank you for your leadership and for the Chamber and what they do.
CalChamber: 125 Years
If we were sitting here in 1890, we could be at a CalChamber event. That's an amazing statistic to think that 125 years ago, this organization started out.
The CalChamber today—it's the largest broad-based advocacy group in California. Members of the CalChamber represent a quarter of all private jobs in the state. They provide products and services to allow people to be in compliance with state and federal laws, which are constantly changing, including our labor laws.
Through our local network, we have over 250,000 Main Street businesses that are represented by local chambers. We have a lot of local chamber members here that came here today from throughout the state, so please give them a round of applause for all the work they do in their local communities.
The mission of the Chamber in the state of California is to make this a better place to live, work and create something that's very special.
Eyes on California
I grew up in the Midwest and as Vivek's [Ranadivé, owner and chairman, Sacramento Kings] talk about the United States … I can tell you from the time I was a young man, I always looked at the state of California and said that's where I want to spend the rest of my life.
This is the greatest state to live and work. We are the most populous state in the nation. One in 10 people in the nation live in the state of California. Mount Whitney and Death Valley are the highest and lowest points in the continental United States.
And that's probably kind of why it's appropriate that we have such highs and lows in California … and hopefully someday we're going to figure that out. But it's in our culture.
Water Challenges
We are also home to one of the largest bodies of water. And I'm not talking about Clear Lake; I'm talking about the Pacific Ocean. We have huge challenges with the water that our Governor is prepared to take on.
And we will use California ingenuity to figure this out… whether it's desalination; whether it's conservation; whether it's what we do in the Delta. But out of crisis in California, really comes innovation. And I think those are some of the hallmarks.
Strength from Immigration
And we also have one of the largest immigration populations. The CalChamber is a strong supporter for comprehensive immigration reform. We're a big supporter of that. There's a lot of work to be done on that.
But immigration makes our state strong, makes us diverse and really remarkable. I think that's one of the hallmarks of why people like Vivek and my friend Raj Bhathal, who's out in the audience, can come from India… come to the United States, make it and be a successful business person.
Banking Innovations
You know, California is also home to many great innovations and transformations. And modern-day banking actually started here in California. A.P. Giannini, who started the Bank of Italy in 1904 and eventually merged that with Bank of America, was really the person that created that the average person could go into a bank and have access to capital.
When he was done, he created a financial services with 500 locations, which was totally unheard of in the banking world. He was recognized by Time magazine as a builder and a titan by the American Banker as one of the most influential people of the 20th century.
Taking Banking to Main Street
And really, when you look at his accomplishments of taking banking down to Main Street America, he was able to help Walt Disney finance his first picture show, which was "Snow White." Bank of America was at the forefront of that.
He was the first that had the vision for the wine industry in the state of California and provided capital to the wine industry. He bought the bonds and put them on the bank's balance sheet to finance the Golden Gate Bridge.
Three people walked into his office that needed help by the last names of Kaiser, Hewlett and Packard. And he believed in their transformation of where they were going.
And he was responsible for creating Transamerica Financial Services, and eventually had to spin that out because of the banking laws, but had the vision that banking and financial services could be packaged together for the common person.
All intended to open doors to a better California.
Fulfilling Dreams
Banking today in California… we're home to some of the most successful financial institutions, including banks like Wells Fargo, City National, Bank of the West, Union Bank, Silicon Valley Bank and OneWest.
How important are banks to California? Well, there are just under $927 billion loans that are done by banks. Now to a banker, that's a loan, but to you sitting in the audience, that's fulfilling your dream. That's fulfilling your dream to buy a home, to buy a car, to start a new small business or send one of your kids to go to school.
Banks have over 100,000 jobs in the state of California and to the tune of almost $900 million of community reinvestment activities are done in the state by banks.
Door Openers
We need to invest in California's future. Housing, transportation, business infrastructure. We need to collectively look forward to the California of tomorrow… one that will support innovation and job creation to build a foundation for the future.
I often think of Ralph Waldo Emerson's quote when he said, "We all need to be able to be door openers, because the door openers create great things."
Ladies and gentlemen, on behalf of the CalChamber, thank you very much for being here and God bless.