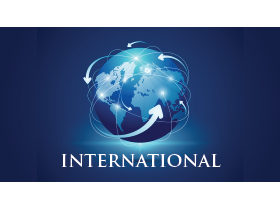 U.S. relations with trading partners across the Atlantic and around the Pacific, as well as federal Trade Promotion Authority legislation were the topics of discussion at a recent forum presented by the California Chamber of Commerce Council for International Trade.
More than 200 forum attendees joined two ambassadors and representatives from the U.S. Chamber of Commerce and five American Chambers of Commerce abroad on May 27 to discuss these vital international trade issues.
Transatlantic Trade/Investment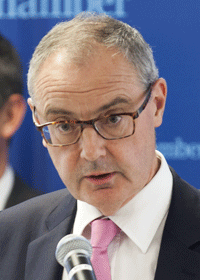 Europe and the United States are negotiating trade talks for a potential Transatlantic Trade and Investment Partnership (TTIP).
"The transAtlantic relationship and the transAtlantic corridor still remains the most important economic corridor in the world," European Union Ambassador to the United States David O'Sullivan said. "It accounts for half of world GDP and nearly a third of world trade flows."
No other commercial artery in the world is as integrated, O'Sullivan said.
"California is the most important state actor in terms of trade and investment for the EU," O'Sullivan commented.
"This negotiation will bring very positive news for California. We estimate that exports to the EU could rise at least 25% and employment by as much as 700% by reducing or eliminating tariffs that could save California companies somewhere around $600 million annually or $1.2 billion if applied to all exports."
Free Trade/Open Markets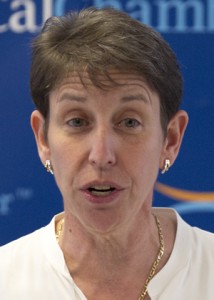 U.S. goods and private services trade with the EU totaled an estimated $1.06 trillion in 2013, according to the Office of the U.S. Trade Representative (USTR).
"The nature of our relationship is so profound and so deep and so longstanding that it's almost hard to realize that there's room for improvement, but the practical reality is that there is," said Marjorie Chorlins, vice president for European affairs with the U.S Chamber.
Tariffs on goods traded between the U.S. and the EU average less than 3%, but even a small increase in trade could have major economic benefits.
"Trade plays to America's strengths in terms of our innovation, our competitiveness and our people," Chorlins said. "If we negotiate agreements that are in keeping with our values of innovation, hard work, fairness and doing what's right, trade can continue to be America's success story."
Case for Investing in Europe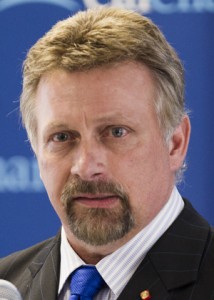 Jake Slegers, chair of American Chambers in Europe (ACE), offered highlights of ACE's recent publication The Case for Investing in Europe 2015.
"Europe is not only the largest economy in the world, but … it is one of the wealthiest," Slegers commented. "It is indeed the access to these wealthy, well-established, stable consumers that is among the primary reasons U.S. companies venture overseas and especially enter Europe. You basically know what you're going to get and you have a stable, well-funded environment to operate in."
Country Perspectives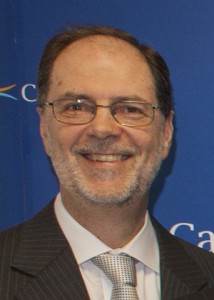 A panel moderated by Stephen Brugger, vice chair of AmChams in Europe, offered perspectives on TTIP from five countries, both inside and outside the EU.
Brugger was leading a 25-member AmCham delegation representing Bulgaria, Croatia, Denmark, Estonia, France, Greece, Ireland, Israel, Kosovo, Latvia, Lithuania, Macedonia, Norway, Poland, Romania, Serbia, Slovak Republic, Slovenia, and Turkey. These representatives were traveling in California to San Francisco, Silicon Valley and Sacramento, and concluding their annual journey in Washington, D.C.
"TTIP is the architecture for the next 50 years and that's what we have to communicate," said Brugger.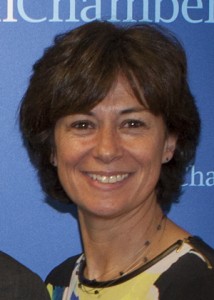 Speaking for the EU, Susan Danger, managing director of AmCham EU, said, "The basic view for business is that TTIP is good." Danger's chamber represents 162 American companies operating in the EU. However, she said her chamber has changed the way it communicates about TTIP in the last 18 months because there is deep distrust and something must be done to combat that.
Caroline Ryan, managing director for AmCham France, said there is "a real, strong dialogue between the two countries." French companies form the third biggest business community in the United States, generating 560,000 jobs and France is one of the top five foreign investors in the U.S. On the flip side, the U.S. remains the first job-creating investor in France, with more than 500,000 jobs.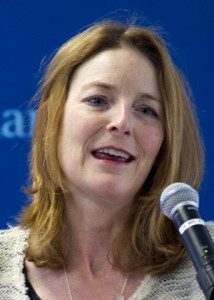 Slegers illustrated the importance of TTIP with a factoid: the Slovak Republic, which produced 980,000 cars last year, is the No. 1 producer of automobiles per capita in the world. The Slovak Republic has only 5 million people and three car manufacturers are located there.
"With the reduction of tariffs, the removal of trade barriers and standardization… even a fraction of an ability to increase our imports will have a major impact on our economy and so we are in full support of TTIP and we keep beating that drum," Slegers said.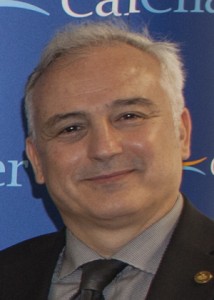 Elias J. Spirtounias, executive director of AmCham Greece, says that TTIP offers Greece an opportunity to expand and become a major energy and trade hub within the southeast European region.
The final panelist, Elif Demircan, executive director of AmCham Turkey, offered a perspective from a country that will benefit from TTIP, although it's not an EU country. The chamber represents 130 U.S companies that have invested more than $50 billion in Turkey, creating more than 60,000 jobs. "Under Turkey's current customs union with the EU, exports from the U.S. via the EU have been able to enter Turkey without reciprocal preferential access being granted for Turkish groups," Demircan said. "Turkish decision makers recognize the significance of TTIP as constituting an economic NATO and being left out of such a new order would harm Turkey's status as a global economic power and its growing trade and investments partnership with the EU and the U.S."
Trade Agreements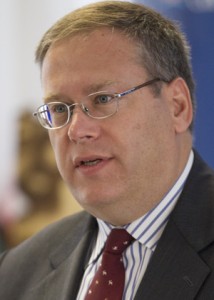 Ambassador Kurt Tong, principal deputy assistant secretary with the U.S. Department of State, closed the event with an update on trade promotion authority (see related story) and the Transatlantic and Trans-Pacific Partnership agreements being negotiated right now. The agreements "are state of the art," Tong said. "They will contain labor standards, environmental standards, rules on state-owned enterprises, rules on intellectual property rights, transparency, regulatory cooperation, very invasive agreements in a sense, in bringing together behind-the-border, no-tariff rules that so much affect trade and investment in the modern era."
Most important, Ambassador Tong noted, these rules will be binding.
"These agreements, once reached, will have this magnetic effect that raises global standards worldwide," the Ambassador commented.
Staff Contact: Susanne T. Stirling
Photos by Steve Yeater