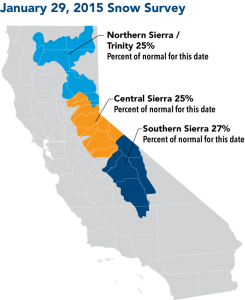 The second winter survey yesterday by the Department of Water Resources (DWR) found a "scant snowpack," leading officials to predict that California's drought will continue for a fourth consecutive year.
A dry January, normally the wettest month, plus warmer-than-average temperatures have resulted in a snowpack of just 25% of the historic average for this time of year, according to DWR. Near Echo Summit, about 90 miles east of Sacramento, the snow water equivalent was just 2.3 inches—12% of the long-term average at that location.
In normal years, the snowpack supplies about 30% of California water needs as it melts in the spring and early summer, according to DWR.
For the beginning of a drought recovery, DWR managers said heavy precipitation and cooler temperatures in the next three months would be required for the snowpack to build.
The continuing drought underlines the need for more storage, both surface and groundwater. The electorate overwhelmingly passed Proposition 1, the California Chamber of Commerce-supported water bond that contains funding for surface water storage. Passage of Proposition 1 reflects Californians' concern over diminishing supplies and acknowledgement that current supplies are insufficient.
The lack of precipitation is reflected in the status of California's major water supply reservoirs. Lake Oroville in Butte County, the main reservoir for the State Water Project is storing just 41% of its capacity. Shasta Lake north of Redding, the largest reservoir for California and the federal Central Valley Project, is holding just 44% of its capacity.
State climatologist Michael Anderson has said ending the drought would require precipitation at least 150% of normal by the end of the water year in September—75 inches on DWR's eight-station index. To date, the stations have recorded only 23.1 inches.
A map of electronic snowpack readings is available here​.
Reservoir conditions are available here.