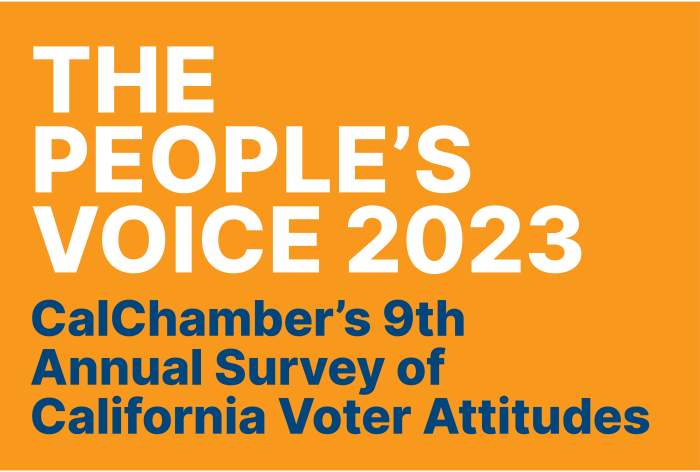 California voters have grown more anxious and pessimistic about living in California than a year ago, according to findings from the California Chamber of Commerce Poll, The People's Voice, 2023.
A strong majority (57%) say California is heading down the wrong track, flipping their views from a year ago, where a majority said the state was headed in the right direction.
Key Factors
Voters peg inflation and the economy as key factors in worsening attitudes. Asked if rising prices caused them or their families to adjust spending habits, 83% said they had, nearly half (47%) by "a lot."
More than two of three voters reported that their households' finances and current economic situation is worse than a year ago — nearly one-quarter said "much worse."
Looking ahead, voters are pessimistic: 58% say the economy will be worse off a year from now. When asked this same question a year ago, a majority believed the economy would be better off. From a personal perspective, a slight majority (51%) of voters believe it "unlikely" that their own economic situation will "improve over the next year."
Over a longer time frame, a plurality (39%) of voters think that five years in the future, California will be a worse place to live compared to today, 12 percentage points higher than those who believed California would be a better place.
Voter pessimism extends to their views on the American Dream, which they have seen steadily slipping away over the years. By a 63% to 26% margin, voters believe that the American Dream "once held true but does not anymore" compared with "still holds true."
Five years ago, a plurality of California voters (49%) believed the American dream "still holds true," versus 44% who responded that "it once held true, but does not anymore.
Methodology
The CalChamber poll was conducted by Bold Decision and Pierrepont Consulting & Analytics with online interviews from October 2–8, 2023 with 1,002 online interviews of California likely 2024 general election voters. The margin of error for this study is +/- 3.1% at the 95% confidence level. This is the ninth year CalChamber has published The People's Voice survey.
Other People's Voice Stories