This article is a part of a series of profiles of CalChamber member companies that are contributing to the state's economic strength and ability to stay competitive in a global economy. Visit California Works to learn more about this series and read past and future profiles.

The San Manuel Band of Mission Indians (SMBMI) is a federally recognized Indian tribe located on the San Manuel Indian Reservation near Highland, California. San Manuel exercises its inherent sovereign right of self-governance and provides essential services for its citizens by building infrastructure, maintaining civil services, and promoting social, economic and cultural development.
As the indigenous people of the San Bernardino highlands, passes, valleys, mountains and high deserts, the Serrano people of San Manuel have called this area home time immemorial and are committed to remaining a productive partner in the San Bernardino region.
Tribal History
For generations, the Maara'yam (Serrano) Tribe has persevered through great change and extreme hardship. Long before the arrival of European settlers, their ancestors lived in harmony with the land in and between the southwestern Mojave Desert and Inland Empire region in what is now Southern California.
Contact with three different waves of European peoples and their governments led to the Tribe's forced removal from their vast ancestral territory and the near extermination of them as a people. This physical and cultural genocide has led to ongoing disconnection and disenfranchisement from their sacred spaces, culturally important plants/animals, the remains of their ancestors, and their traditional clan-based interactions.
The Act of Relief for Mission Indians, passed in 1891, recognized the San Manuel Band of Mission Indians' inherent rights to self-govern as a sovereign nation. Following the establishment of the Reservation, the federal government would continue to make decisions on the Tribe's behalf, dictating what they could and could not do as an independent nation.
In the 1960s and 1970s, nationwide protests strengthened relations between Native Americans and the federal government. Following a message by President Richard Nixon recommending a policy of self-determination for Indian Tribes in 1970, the Indian Self-Determination and Education Assistance Act was signed into law in 1975 allowing San Manuel and all federally recognized tribes to finally exercise their retained inherent right to self-governance.
The introduction of Tribal Government gaming on the San Manuel Reservation in the mid-1980s brought about a more secure economy and enabled the Tribe to rebuild its governance capacity. With their government-recognized independence intact and their future in mind, they began to explore opportunities for new businesses, both on and off the Reservation.
Today, the San Manuel Reservation, once only 640 acres, covers more than 1,100 acres. The Maara'yam ancestral territory covers present-day Antelope Valley on the west, southwest Mojave Desert to the north, portions of San Gabriel and San Bernardino Mountains in the center, the Inland Empire north of the city of Riverside to the south, and the city of Twentynine Palms to the east.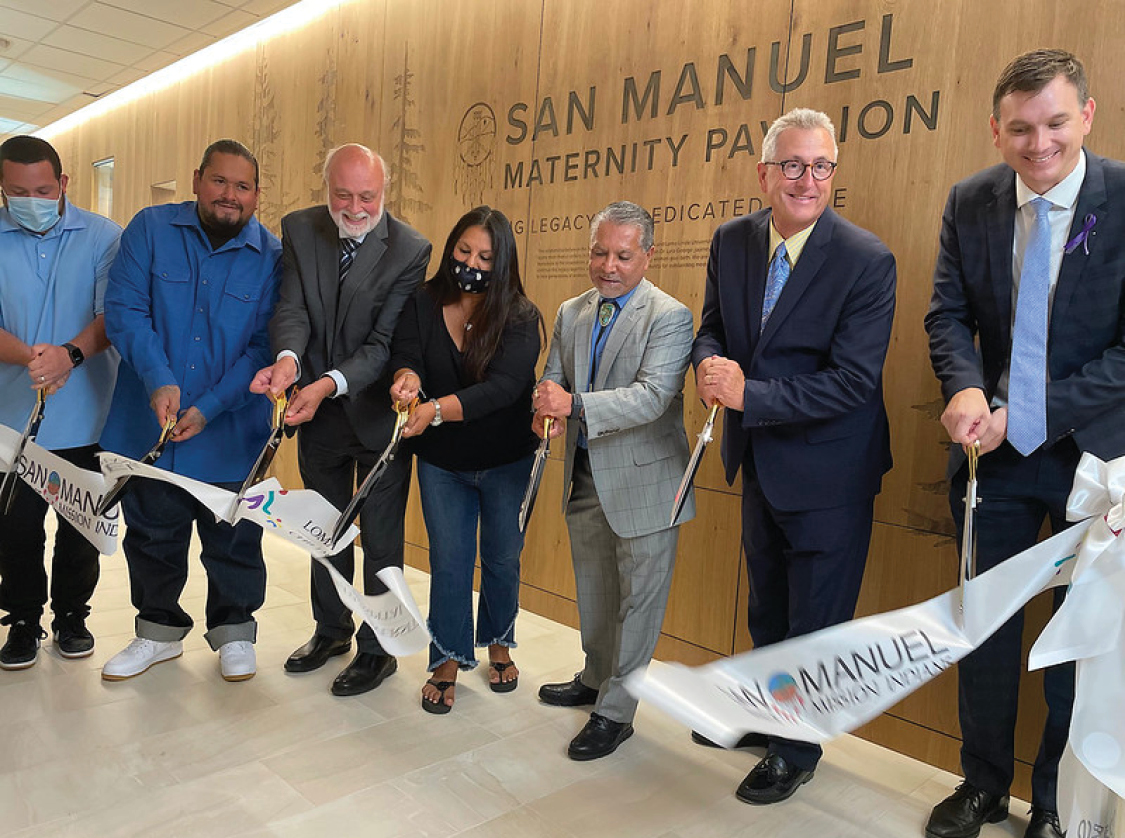 Philanthropy
Yawa' — acting on one's beliefs — is a core value at San Manuel and serves as the inspiration to protect ancestral lands and support its inhabitants. Since 2003, San Manuel has contributed more than $300 million supporting neighboring communities in the Inland Empire and Indian Country through financial contributions for education, health and wellness, economic development, and cultural projects.
Helping Small Business
During the COVID-19 pandemic, San Manuel created a $1 million Small Business Relief Fund as financial assistance to 50 small businesses throughout their ancestral territory and beyond. With the state's COVID-19 crisis and resulting Stay-at-Home Order, many businesses faced the reality of employee layoffs or the threat of permanent closure.
San Manuel's financial assistance program granted a $20,000 lifeline to each small business to help their business survive and thrive.
Education
Education is a core value, believing that knowledge is the doorway to enlightenment and helps all people to excel.
Contributions to community educational initiatives include:
S.T.E.A.M. (Science, Technology, Engineering, Arts and Mathematics) programs.
After-school programs.
Scholarship programs.
College access programs.
Career readiness programs; and
Community-based arts and music programming.
In addition to running cultural sessions and tribal government programs, SMBMI also funds a Serrano Language Revitalization Project (SLRP) with a mission to ensure the continuation of the Serrano language.
The SLRP supports community language revitalization efforts, developing materials such as a grammar book, dictionaries, educational multimedia resources, and apps. All the project's efforts contribute to the goal of teaching tribal families to speak Serrano so it can be used in everyday communication.
Environmental Sustainability
SMBMI's Environmental Department (SMED) strives to protect Tribal lands and resources on the San Manuel Reservation through unwavering stewardship and community outreach. The Serrano have always been environmental stewards of natural resources, so the SMED incorporates traditional knowledge with modern technologies to implement an elite hybrid of best management practices.
Some significant resources incorporated into current SMED programs include air, water, soil erosion, and recycling. As part of pollution prevention and native species preservation, the SMED manages an invasive species program and hazardous materials disposal program as well.
The Tribe is continuously creating a diverse energy portfolio consisting of innovative technology. From the use of solar panels and electric vehicle charging stations to the creation of the Tribe's own Utility Authority and participation in the Western Area Power Administration (WAPA), SMBMI is dedicated to energy self-sufficiency.
The Tribe also has created its own internal ordinances, practices, and policies that help ensure the protection of natural resources and the environment on the Reservation. These include an Environmental Protection Act, a Solid Waste Ordinance, and other directives.
Growth and Diversification
San Manuel is one of the largest private employers in San Bernardino County. In 2021, the Tribe opened Yaamava' Resort & Casino, a 17-story luxury resort featuring 432 guest rooms and suites, an expansive pool area, an award-winning spa, and a state-of-the-art 2,800 seat theater.
The casino at Yaamava' is the largest on the West Coast with more than 7,200 slots. Today, Yaamava' is the only Four-Star and Five-Star-rated and AAA Diamond-rated entertainment destination in the Inland Empire.
In 2022, a governmental instrumentality of the Tribe, the San Manuel Gaming & Hospitality Authority, re-opened Palms Casino Resort in Las Vegas, marking a milestone as the first resort in Las Vegas fully owned and operated by a Native American tribe.
As part of the Tribe's long-term diversification strategy, San Manuel recently acquired a portion of ownership interest in the Waldorf Astoria Monarch Beach Resort in Dana Point, California