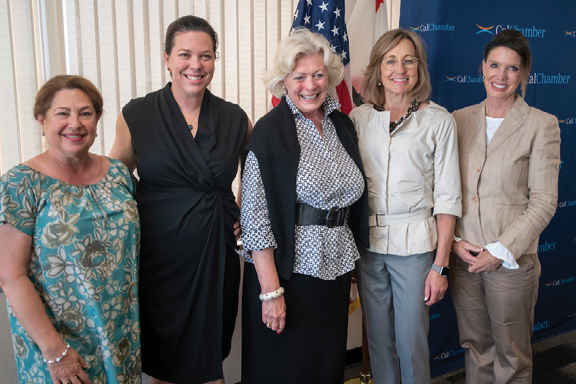 Representatives from top state and federal agencies joined the California Chamber of Commerce International Forum last week to talk about how the United States and California are fostering international trade.
The May 17 forum brought together more than 150 attendees, including representatives from the business community, CalChamber Board members, representatives of the California consular corps and foreign economic partners, plus representatives of foreign, state, local and federal governments.
This year's forum speakers were:
• Judith Pryor, First Vice President/Vice Chair, Board of Directors, Export-Import Bank (EXIM), who gave an overview of how EXIM helps businesses succeed in international markets;
• Dee Dee Myers, Senior Advisor to Governor Gavin Newsom, and Director, Governor's Office of Business and Economic Development, who detailed state efforts to encourage foreign direct investment; and
• Caroline Beteta, President and CEO, Visit California, who spoke about the important role tourism plays in the state and local economies.
Judith Pryor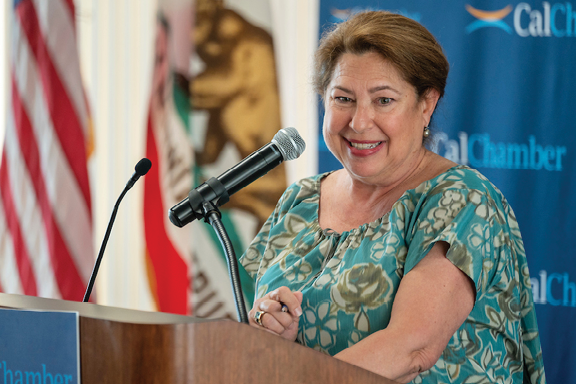 Judith Pryor, the forum's first speaker, spoke about how the Export-Import Bank (EXIM) supports American companies, workers, and exports.
As the official export credit agency of the United States, EXIM provides important tools to businesses, such as providing direct loans, loan guarantees, medium- and long-term financing, and export credit insurance.
The goal of the agency, Pryor said, is "to reduce the risk of exporting and ensure that American-made goods and services have a level playing field on which to compete internationally."
Pryor highlighted several companies that have benefited from EXIM's programs. One company she highlighted was PanDia Seeds, Inc., a wholesale seed small business based in Ventura that focuses on innovative research and development. The company had been investing in climate smart seeds since their founding, and needed the ability to offer extended payment terms to foreign buyers that didn't want to pay cash in advance. The company was able to offer extended payment terms thanks to EXIM's export credit insurance. This insurance protects PanDia's foreign receivables from nonpayment, and since working with EXIM, the company has expanded into Latin America and the Caribbean.
"Their exports now represent 97% of their total revenues," Pryor said.
While the majority of small businesses in California export their goods or services, Pryor estimates there are four million small businesses that are not export ready. And exporting is important, she said, because 95% of the world's consumers live outside our borders.
"U.S. companies that export grow faster, weather financial storms better, they're less likely to go out of business, and they tend to be more profitable," Pryor stressed. "EXIM's job is to help take the risk out of financing, so that these companies can export with confidence, regardless of size, sector, region, whether short-term export credit insurance, or long-term buyer financing."
Pryor also highlighted a new program at EXIM, the "Domestic Finance Initiative."
This program is part of President Joe Biden's executive order relating to shoring up critical supply chains and makes available EXIM's suite of finance and insurance offerings to export-oriented domestic manufacturing projects.
Dee Dee Myers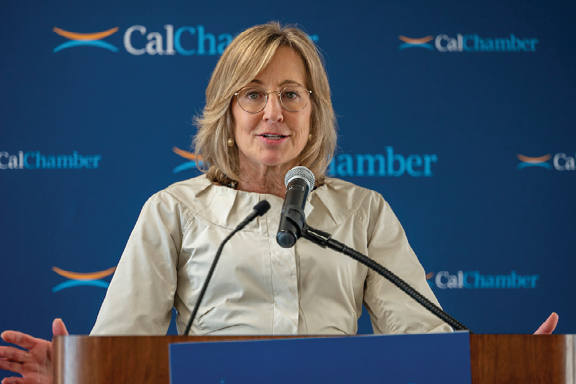 Following Pryor's remarks, Dee Dee Myers took the podium to speak about California's efforts to support foreign direct investment.
California plays an outsized role on the world stage and has a special relationship with countries around the world, Myers told attendees. International trade is very important for the state, and the International Affairs and Trade team within the Governor's Office of Business and Economic Development (GO-Biz) advises the governor and lieutenant governor on strategies to develop and grow partnerships, engage with other countries, provide recommendations to promote and expand California's trade and foreign direct investment.
The team's work, she said, has three pillars:
• Attracting foreign investment that brings jobs to California;
• Supporting small business in accessing global markets; and
• Engaging in sub-national diplomacy.
Foreign direct investment is a robust part of the state's economy. Last year, there were more than 18,000 foreign-owned firms in California, employing more than 635,000 Californians, Myers said. Between 2020 and 2022, the state experienced an increase of 270 foreign-owned firms, with 5,300 new jobs.
To continue fostering innovation and investment in the state, Governor Gavin Newsom expanded the California Competes Tax Credit program. These business grants are creating thousands of full-time jobs in California and will bring in $3.3 billion in new investment, Myers said.
One company utilizing this grant is Sparks, Myers said. This battery company has a grant-established facility in the Central Valley to create cobalt-free lithium-ion batteries, which makes batteries cheaper and doesn't have the detrimental environmental impacts of extracting the minerals from the earth.
California's export promotion strategy is focused on advancing critical sectors of its economy, such as advanced manufacturing, health care and biotech, information technology and cybersecurity, and aerospace and defense.
"We want to ensure that California remains a top exporting state," Myers said.
Caroline Beteta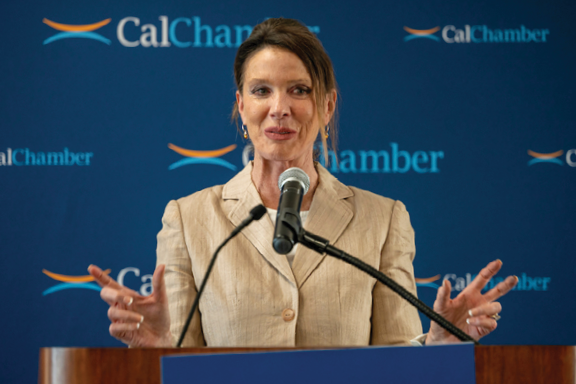 Last to speak, Caroline Beteta spoke about how important tourism is to the state and local economies.
In California, foreign tourism generated $17 billion in 2020. More than 500 cities in California levy a transit occupancy tax for visitors that stay in accommodations and lodging properties, she said. And 46 of those cities are powered by 30% of tourism revenue. Areas like Catalina, Mammoth Lakes, and many other counties totally rely on outside visitor dollars to fund infrastructure and services for everyone in California.
But one of the most important aspects of tourism is that it is "catalytic." It's a catalyst for businesses beyond tourism, Beteta said. An Oxford study found that 13% of executives with site selection responsibility stated their perception of an area's business climate was influenced by personal leisure travel and 37% by business travel.
"We like to say we service all of you, and hope that that creates new business development opportunities by the mere fact that we're hosting visitors from around the world here in California," she said.
Tourism in California is roaring back from the slump caused by the COVID-19 pandemic. Visitors spent $134 billion in 2022, which is 93% of the state's 2019 all-time high.
"If you divide that by every household in California, that's $906 less in taxes we have to pay as individuals because of that infusion of visitor dollars," Beteta pointed out.
California is the No. 1 travel destination in the United States, which is one-and-a-half times the size of the Florida tourism economy and five times the size of the Hawaiian tourism economy.
Beteta closed her remarks by showing attendees several tourism commercial ads created by Visit California to entice travelers to California.