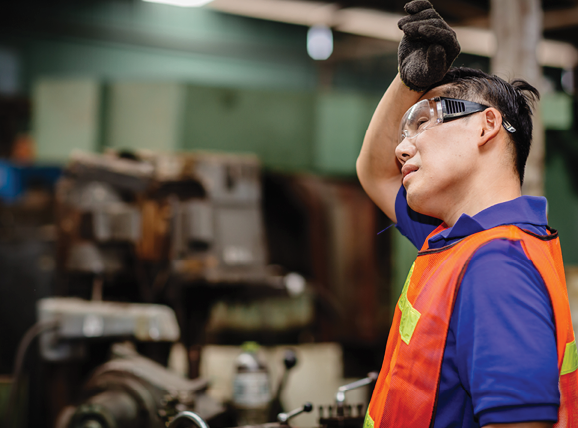 The California Division of Occupational Safety and Health (Cal/OSHA) has started the formal rulemaking phase of its work on developing regulations to prevent heat illness in indoor workplaces.
A California Chamber of Commerce-led coalition has submitted written comments and oral testimony at each step of the process, encouraging Cal/OSHA to develop a rational policy that isn't unnecessarily burdensome on employers while minimizing the risk of heat illness to workers in indoor workplaces.
The coalition represents employers large and small across diverse industries and recommends revisions to the proposed indoor heat illness regulation that provide clarity to foster better compliance and improved employee safety and health.
Background
Many coalition members were involved with developing and implementing California's outdoor heat illness regulation (California Code of Regulations, Title 8, Section 3395). Adopted in 2005, the outdoor heat illness prevention standard requires employers to provide outdoor workers with water, shade, rest breaks and training.
Legislation passed and signed in 2016, SB 1167 (Mendoza; D-Artesia), directed Cal/OSHA to develop a regulation to prevent heat illness among indoor workers. The CalChamber and a large coalition opposed SB 1167, arguing that a specific regulation is unnecessary because the state's existing Injury and Illness Prevention Program (Title 8, Section 3203) requires employers to identify and address workplace hazards, including the risk of heat illness in indoor workplaces.
The draft indoor heat rule, published for public comment on March 31, 2023, applies to workplaces where the temperature exceeds 82 degrees Fahrenheit. Although no date is presently set, Cal/OSHA will likely consider it for a final vote by the Standards Board late in 2023 or early in 2024.
If adopted, it will require temperature monitoring, cooldown areas, and other heat-related precautions to protect employees. Known as the high heat provisions, additional requirements apply when the outdoor temperature exceeds 95 degrees Fahrenheit.
Coalition Concerns
The CalChamber coalition's primary concerns with the latest draft indoor heat rule include the following:
• Compatibility with Existing Outdoor Heat Illness Regulation. Many employers have both outdoor and indoor workplaces with some or all employees transitioning between both. Like earlier versions, the latest draft regulation fails to explain how employees who are covered by either the draft indoor heat rule or the existing outdoor heat rule (Section 3395) will switch between the two compliance regimes. This structural issue is the result of adopting two separate regulations for dealing with one concept — temperature.
For industries covered by the existing rule (agriculture, landscaping, construction, oil and gas, or transportation of related materials), a worker might switch between the two regulations repeatedly throughout the day. For example, on a hot day, a construction worker walking into the building on which they are working will transition from coverage under Section 3395 to the draft regulation. An agricultural or landscaping worker might walk into a shed (or step into a vehicle) and face momentarily different temperatures and a different compliance regime.
• Temporal Trigger. The draft regulation's requirements are triggered regardless of how briefly the temperature rises above 82 degrees. The lack of a time element creates unintended, nonsensical obligations.
For example, if an employee enters a remote building (such as a storage shed) or a vehicle that has warmed up to 85 degrees due to sunlight, that employee may briefly be exposed to a temperature above 82 degrees. In a vehicle, the temperature will likely drop as soon as the air conditioning is functioning. For a shed, the employee may grab a tool and step out immediately.
Even though the exposure was minimal, both cases would trigger the draft regulation's obligations for the employer, including recording the temperature in that space, potentially creating a cooldown area, etc.
With the understanding that at certain higher temperatures (such as above 95 degrees), even brief exposure may be deemed significant, the coalition proposes adding a time delay trigger for the draft regulation where employees are exposed to heat below 95 degrees Fahrenheit for less than 10 cumulative minutes in any 30-minute period.
• Definitions. Applying the definition of "indoor" to vehicles and equipment cabs is confusing and unproductive. The coalition encourages Cal/OSHA to either add to the draft rule a temporal trigger for vehicles or clarify that workers in industries covered by the existing outdoor heat rule (Section 3395) can continue to comply with Section 3395.
• Access to Cooldown Areas. The coalition remains concerned with the breadth and open-ended nature of the draft regulation's language on preventive cooldown breaks and cooldown areas, the obligation to "monitor" employees whenever they take a rest (regardless of whether they are experiencing signs of heat illness), and how employers can simultaneously "encourage" an employee to remain in the cooldown area and order them back to work.
The coalition has proposed adding language to the draft regulation to permit an employer to limit the number of preventive cooldown breaks taken during a shift to no more than two breaks per hour if the temperature in an employee's work area is less than 95 degrees — unless the employee demonstrates symptoms of heat illness, in which case the employee shall be allowed a cooldown break until such signs have abated.
• Training. Employers with employees working in both indoor and outdoor areas should be able to provide one training program to comply. The CalChamber coalition recommends the draft rule be changed to clarify that training for the indoor heat illness rule can be integrated into Section 3395 training when employees are covered by both the indoor heat illness and outdoor heat illness regulations.