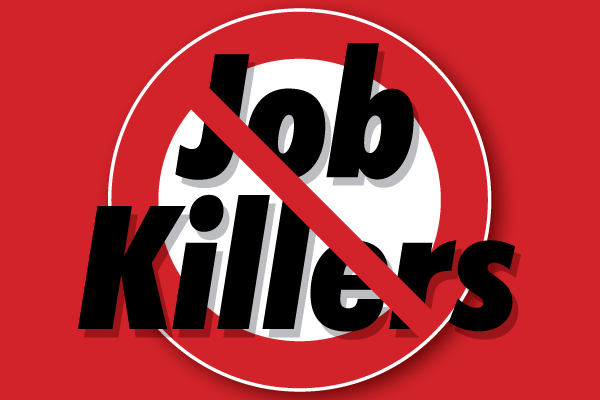 Strong opposition by a California Chamber of Commerce-led coalition this week stopped a job killer bill that would have created a de facto ban of warehouses.
AB 1000 (Reyes; D-San Bernardino) originally mandated a statewide setback of 1,000 feet from sensitive receptors (housing, schools, parks, hospitals, jails, etc.) for all new or expanded logistics use facilities 100,000 square feet or larger, regardless of environmental impacts, establishing a de facto ban. The bill also would have created a new private right of action in California.
In an effort to gain support, Assembly Majority Leader Eloise Reyes proposed amendments to the bill on April 26 to make the proposed setback requirement apply only in her district. She also adjusted the requirement from having a 750-foot setback to a 500-foot setback, as long as all 10 mitigation measures were completed.
Adam Regele, CalChamber vice president of advocacy and strategic partnerships, explained in testimony to the Assembly Local Government Committee that the new amendments failed to remove the basic flaws of the bill.
In the following discussion, committee members said there is an issue with pollution in the region and that something must be done, but commented that AB 1000 went too far, was not the right solution and stripped local governments of their authority.
Ultimately, the bill failed for lack of support: two committee members voted for the bill, one opposed and the remaining members declined to vote.
If AB 1000 had become law, it would have led to the elimination of high-paying jobs, quashed critically needed housing associated with mixed use developments, increased vehicle miles traveled for heavy duty vehicles coming to and from California ports and incentivized frivolous litigation with the new private right of action in California law.
The bill threatened to disrupt already-fragile supply chains and would have substantially increased the cost of goods movement, thereby increasing costs of goods for every Californian.
The persistence of the CalChamber coalition has succeeded in stopping the threat to California's economic competitiveness.