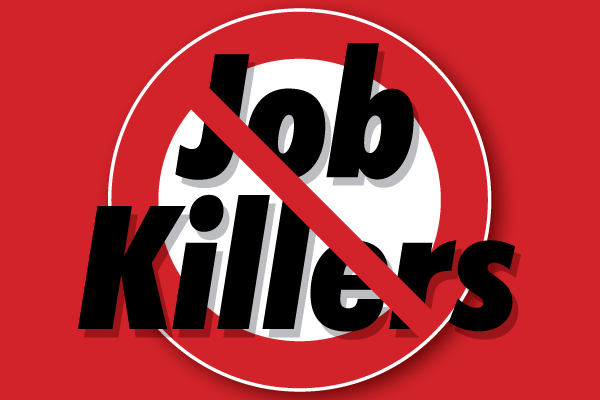 A California Chamber of Commerce-opposed job killer bill that creates a de facto ban of warehouses passed an Assembly committee this week.
AB 1000 (Reyes; D-San Bernardino) mandates a statewide setback of 1,000 feet from "sensitive receptors" for all new or expanded logistics use facilities 100,000 square feet or larger in California, regardless of environmental impacts. It also creates a new private right of action.
Passage of AB 1000 will lead to the elimination of high-paying jobs, quash critically needed housing associated with mixed use developments, increase vehicle miles traveled for heavy duty vehicles coming to and from California ports, and incentivize frivolous litigation with the new private right of action in California law.
The bill threatens to severely disrupt already-fragile supply chains and substantially increase the cost of goods movement. The practical effect of AB 1000 becoming law is increased costs for every Californian.
Loss of Good-Paying Jobs
In a letter to the bill's author, Adam Regele, CalChamber vice president of advocacy and strategic partnerships, notes that there are more than 1.6 million trade-related jobs in Southern California alone directly associated with California ports. Millions more California jobs in manufacturing, retail and wholesale trade, construction, transportation and warehousing sectors rely on a healthy goods movement.
AB 1000's de facto ban on logistics use facilities will undermine California's ability to remain competitive, especially as the state already struggles to find adequate off-docking facilities to move goods from the ports.
Prevents Housing Construction
The bill essentially eliminates the ability to locate housing near job sites, which will stymie mixed-use development projects from moving forward.
For example, the District at Jurupa Valley project proposes the development of up to 1,192 residential units and seven acres of open space and parks alongside commercial, retail and logistics use facilities. The housing associated with the Jurupa Valley project is feasible only because of the underlying infrastructure from the commercial, logistics and retail uses. These land uses buffer the residential housing from the 60 Freeway and drastically reduce vehicle miles traveled, consistent with California's climate change goals. If AB 1000 were law, projects like Jurupa Valley never would come to fruition.
Relies on Outdated Data
As Regele reiterated in April 17 testimony, AB 1000 attempts to deal with truck emissions associated with goods movements to and from warehouses using a rudimentary and outdated 1,000-foot setback concept dating back to a 2005 advisory document from the California Air Resources Board (CARB).
Since 2005, CARB has implemented rules to eliminate diesel particulate matter (PM) on nearly all diesel-powered equipment, including trucks and refrigeration units. As of January 2023, all trucks statewide are required to be equipped with diesel particulate filters and catalysts that reduce smog-forming emissions.
A CARB analysis found that the PM filters are effective and operating as designed. The Port of Los Angeles has reported a 98% reduction in diesel PM10 and PM2.5 from heavy duty trucks since 2005.
Existing laws and adopted regulations in California continue to lead the nation and will reduce emissions even further as more stringent targets are phased in.
Increased Litigation
AB 1000's private right of action empowers virtually anyone to act as a prosecutor to sue to block any facility with which they disagree. This new avenue for litigation would enrich trial attorneys, slow projects and drive up development costs. At the same time, such a threat will shut down the willingness of investors to expand their businesses and workforce in California.
Overly Broad
Comments from committee members echoed opponents' concerns about AB 1000's threat to projects, impact on jobs, and potential to increase vehicle miles traveled, thereby increasing pollution.
Assemblymember Rick Zbur said the bill as presented to the committee is "too broad and picks up too much." Without specific and tighter definitions, he noted, AB 1000 could lead to 80 blocks of buffer around facilities like Costco or public storage places, include standard industrial and business parks, and prevent a facility from getting a permit for things like grading the property or installing electric chargers or solar panels.
Assemblymember Heath Flora pointed out that warehouses provide the tax base that support services to communities where the facilities are located and people move closer to work around the good-paying, union warehouse jobs.
Assemblymember Muratsuchi suggested the author clarify the definition of qualified logistics uses so that AB 1000 won't inhibit the ability of aerospace companies to complete world-leading, innovative projects, such as the James Webb Space Telescope, which was assembled in Redondo Beach.
Key Vote
AB 1000 passed the Assembly Natural Resources Committee on April 17, 8-3:
Ayes: Addis (D-Morro Bay), Friedman (D-Glendale), Muratsuchi (D-Torrance), Pellerin (D-Santa Cruz), Luz Rivas (D-San Fernando Valley), Ward (D-San Diego), Wood (D-Santa Rosa), Zbur (D-West Hollywood).
Noes: Flora (R-Ripon), Hoover (R-Folsom), Mathis (R-Porterville).
AB 1000 will be considered next by the Assembly Local Government Committee.