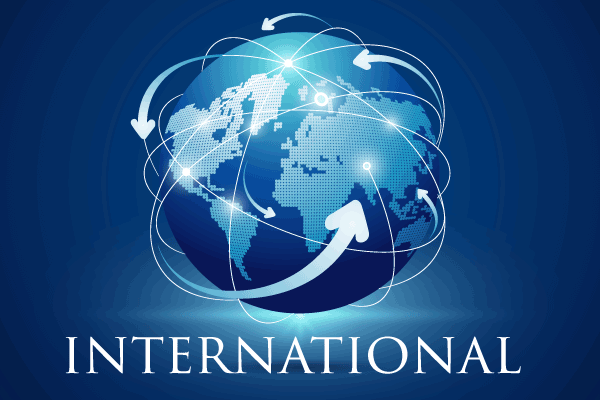 Ways in which investments from Canada and California pension programs are advancing the move toward a green, sustainable economy were the focus of a recent luncheon discussion at the California Chamber of Commerce.
The February 22 gathering was presented by the Consulate General of Canada in San Francisco in partnership with the CalChamber and the Governor's Office of Business and Economic Development.
Rana Sarkar, consul general of Canada in San Francisco, said net-zero policies from government alone won't get Canada or California to their climate goals. Attaining those goals, he noted, will depend on an institutional investment community that is committed to sustainability.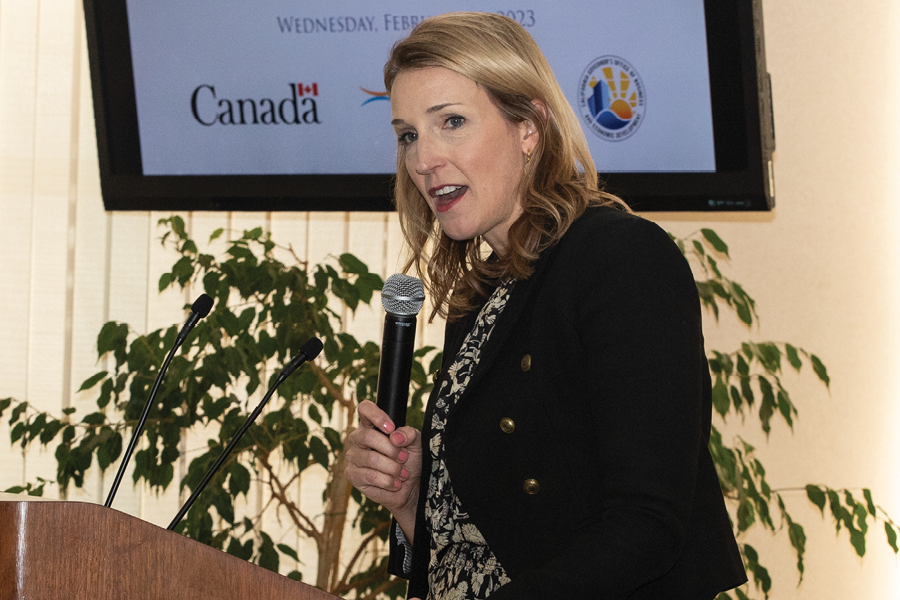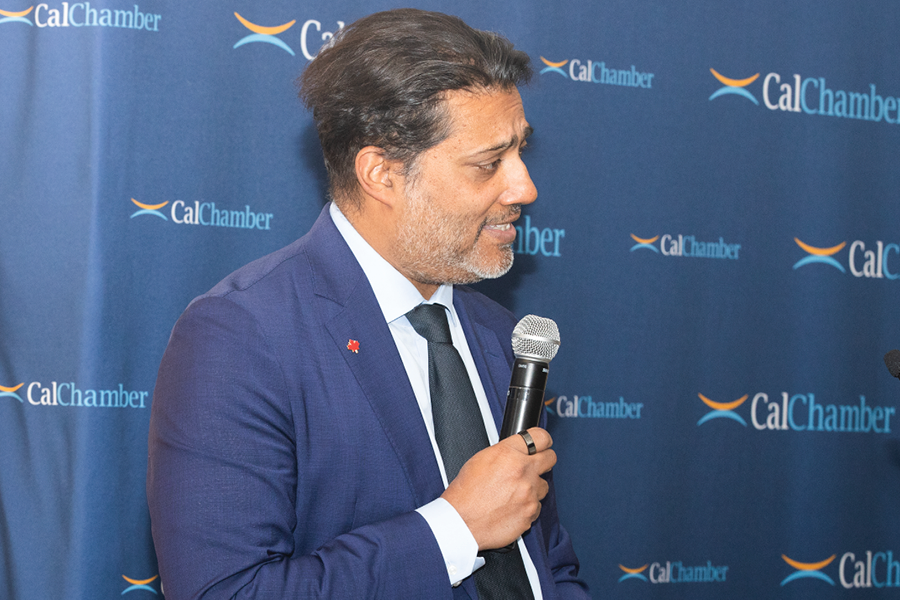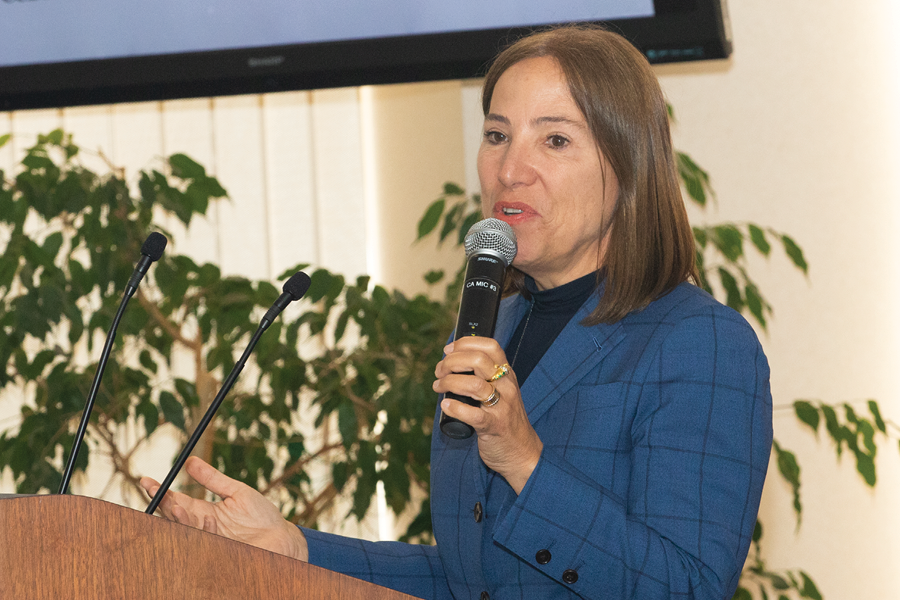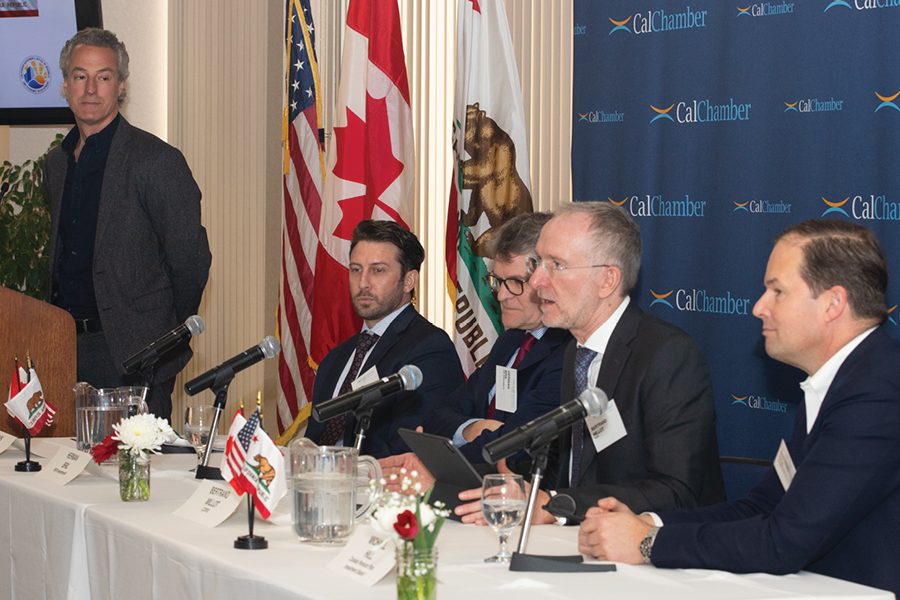 Lieutenant Governor
Lieutenant Governor Eleni Kounalakis, luncheon keynote speaker, said that during the two years of extraordinary budget surpluses, the state gave priority to actions that supported budget resiliency, such as putting more money into the "rainy day" fund, paying down bond liabilities, and paying down pension fund liabilities beyond what is required by law.
These actions, she said, put the state on a good footing to deal with a potential economic slowdown this year.
Immigration and the state's public higher education system are two important components of California's economic success, the Lieutenant Governor said. While immigrants account for 14% of the U.S. population, they make up 27% of California's population. This group is younger than the national average with experience that adds to the state's richness of society and profile of innovation, she said.
California's public higher education system, with 2.5 million students enrolled and roughly 40% of undergraduates being the first in their families to go to college is a "massive conveyer belt of talent" for the California economy, the Lieutenant Governor declared.
Investors Panel
Dan Adler, deputy director of climate finance for the California Infrastructure and Economic Development Bank (IBank), moderated the discussion by investors. "Smartly designed" public policy can make room for investment capital, he said.
As large as it is, California is just a "tiny piece" of the "total climate sustainability puzzle," so what matters is "what we do being translatable" to the rest of the world, Adler said. "Environmental sustainability is the future of the economy," he said, but the scale of what's needed for the clean energy transition is "daunting."
For example, one goal is building 7,000 megawatts of electricity each year for the next two decades. That number, Adler said, amounts to the entirety of what's produced by California's wind fleet after four decades.
Travis Antoniono, investment manager with CalPERS (California Public Employees' Retirement System), described how the $490 billion investment fund contributes to the state's economy, with 70 cents of every $1 invested going to areas with historically high minority representation.
CalPERS also has taken steps to reduce the carbon footprint of its investment portfolios and invest in low-carbon solutions.
Herman Bril, head of sustainability and climate for PSP Investments, commented that investing goes hand-in-hand with sustainable investing, though sometimes doing so is "easier said than done." The Public Sector Pension (PSP) Investment Board is one of Canada's largest pension investment managers.
PSP works with investors, regulators and policymakers and has increased its green assets portfolio. To "invest in long-term success," Bril commented, might have "short-term costs."
Bertrand Millot, head of the stewardship investment and climate change teams for CDPQ (Caisse de dépôt et placement du Québec), said the Montreal-based firm is the second largest investor in infrastructure globally, and in the United States is active with such facilities as toll roads and student transportation (buses).
CDPQ has been considering sustainability in investment decisions since 1994 and in 2017 was one of the first global investors to come up with a comprehensive climate policy with targets to increase green investment by 2025. The company tries to invest in "best in class" operations, he explained, because of the relationship between that and good financial returns.
Michael Hill, managing director at CPP (Canada Pension Plan) Investments, described his company as managing the Social Security of Canada. When incorporating climate change considerations into decisions, the company uses the "engagement model" rather than the "divestiture model," he said.
His department, Hill said, invests in small and large energy projects and sees opportunities from participating in California's efforts to meet its climate goals.