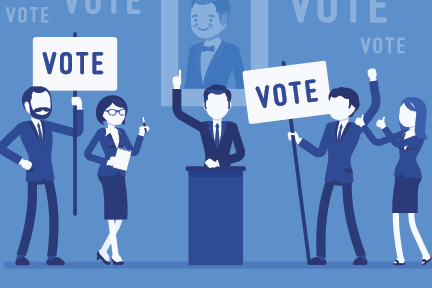 An old idiom, "It's all over but the shouting," may have found an election corollary in California: "It's all over but the counting."
The November 8 mid-term election is in the rearview mirror, but the road ahead for many aspiring office holders remains uncertain as nearly 1.7 million ballots remain to be counted statewide.
Left in doubt are several close legislative, congressional, and local government offices. Just called were the San Jose mayor's race for Matt Mahan and the Los Angeles mayor's race for Karen Bass.
Here's why elections get complicated in California. All voters receive a mail-in ballot that had to be either turned in or postmarked by November 8, but those ballots had until Tuesday, November 15 to arrive at county election offices.
Although there are many races that are too close to call, there are several where the outcome appears certain. This year, the California Chamber of Commerce and our business allies engaged in more than 20 legislative campaigns in the primary and general elections for both Democratic and Republican candidates and spending hit new records.
To communicate with voters, business and labor groups deploy independent expenditure committees, committees like JobsPAC that operate independently of campaigns. This year, these groups spent a record $50 million on candidates for legislative office.
Senate Open Seats
Highlighted below are the preliminary outcomes in the open seat contests for State Senate.
• Senate District 4: Marie Alvarado-Gil (D-Jackson) is a charter school administration and novice candidate winning in her first try at elective office, defeating another Democratic candidate. The seat became vacant when incumbent Republican Andreas Borgeas was drawn out of the district through the reapportionment process. Alvarado-Gil received independent expenditure backing from the California Charter School Association, the Agriculture Council of California, the Dental Association and CalChamber's JobsPAC. In this Republican-leaning seat, Alvarado-Gil won on a fiscally prudent platform that included opposition to tax increases. She is eligible to serve for 12 years (that is, three four-year terms).
• Senate District 6: Roger Niello (R-Fair Oaks) is well known in the Capitol community due to the eponymous automotive dealerships that dot the Sacramento region as well as his previous service as a local elected official and a member of the Assembly. Senate District 6 is evenly divided between Republicans and Democrats, but Niello far outperformed GOP registration. CalChamberPAC was an early supporter of Niello, who is eligible to serve for eight years due to his previous Assembly service.
• Senate District 8: Angelique Ashby (D-Sacramento) is a member of the Sacramento City Council making her first bid for legislative office. Ashby defeated fellow Democrat Dave Jones who previously served in the Assembly as well as Insurance Commissioner. Senate District 8 became open due to Democratic Senator Richard Pan being termed out. Senate District 8 will earn the distinction of being the most expensive Senate race of 2022, drawing more than $10 million in outside spending. Ashby was heavily backed by independent expenditures from energy, insurance, and real estate interests while progressive groups such as the nurses lined up behind Jones. While the race has not been called, Ashby has held a steady lead. ChamberPAC was an early supporter of Ashby, who is eligible to serve for 12 years.
• Senate District 10: Aisha Wahab (D-Hayward), a member of the Hayward City Council, appears to have won over fellow Democrat and Fremont Mayor Lily Mei. Mei was the business-backed candidate while Wahab received the backing of labor groups, trial lawyers and the California Working Families Party, the state affiliate of the Bernie Sanders organization. Assuming the results hold up, Wahab will replace the termed-out Bob Wieckowski. The campaign was another expensive bloodbath between business and labor groups; independent expenditure spending by both sides will total $7.4 million. Wahab is eligible to serve for 12 years.
• Senate District 18: Steve Padilla (D-Chula Vista) is a longtime local official from Chula Vista, San Diego County's second largest city. The seat opened due to Ben Hueso serving out his two terms. Senate District 18 is a Latino Voting Rights district that encompasses the southern part of San Diego County and stretches east into the counties of Riverside and Imperial. Padilla, a former police officer, ran with support from CalChamberPAC and is eligible to serve for 12 years.
• Senate District 20: Caroline Menjivar (D-Los Angeles) was the East Valley representative in Los Angeles Mayor Eric Garcetti's office. The seat become open due to Democrat Bob Hertzberg being term limited. The outgoing incumbent recruited his son, Daniel, to be his replacement. Voters appear to have had another idea. Senate District 20 was drawn to be a Latino Voting Rights Act district and the voters chose a Latina Marine veteran over the son of a longtime elected official who, otherwise, appeared to have little qualification for office.
• Senate District 28: Lola Smallwood-Cuevas (D-Los Angeles) will take over for Sydney Kamlager, who ran for and won a vacant congressional seat. Smallwood-Cuevas was the heavy favorite from the get-go, running with the endorsement of Kamlager and the Democratic Party. Smallwood-Cuevas is a project director at UCLA's Labor Center and a former community organizer for SEIU. She will be eligible to serve for 12 years.
• Senate District 32: Kelly Seyarto (R-Murrieta) served one term in the Assembly and has moved up to the Senate as incumbent Republican Melissa Melendez termed out. This is a safe seat for Republicans that encompasses GOP strongholds like Temecula, Murrieta and Yorba Linda. The outcome was never in doubt. Seyarto is eligible to serve for eight years.
• Senate District 36: Janet Nguyen (R-Huntington Beach) is returning to the Senate where she served one term before losing the seat in 2018. Her political hiatus did not last long as she returned to elective office by beating a fellow Republican in an Assembly primary battle. Nguyen's path this year was much less dramatic as she was seeking a newly drawn seat encompassing the Little Saigon portion of Orange County that fits her profile perfectly. CalChamberPAC supported Nguyen in this race as well as her previous tries for legislative office and she is eligible to serve another four years.
• Senate District 38: Catherine Blakespear (D-Encinitas) is the city's mayor who defeated Republican Orange County businessman Matt Gunderson. The district runs along the coastal strip of southern Orange County into a large portion of San Diego County. Blakespear's election represents a flip of the seat from Republican to Democrat as longtime GOP elected official Pat Bates was termed out of office. Business groups, led by energy, real estate, health care groups and CalChamber's JobsPAC, invested heavily in Gunderson in an effort to keep the seat in Republican hands, but the redistricting process made that an uphill climb as the new lines favor Democrats by 6% in terms of voter registration. Blakespear, an attorney by profession, is eligible to serve for 12 years.
Looking Ahead
CalChamber's policy team has already begun meeting with these new senators with the goal of developing long-lasting positive relationships built on the common principle that all sides care deeply about the future of California.