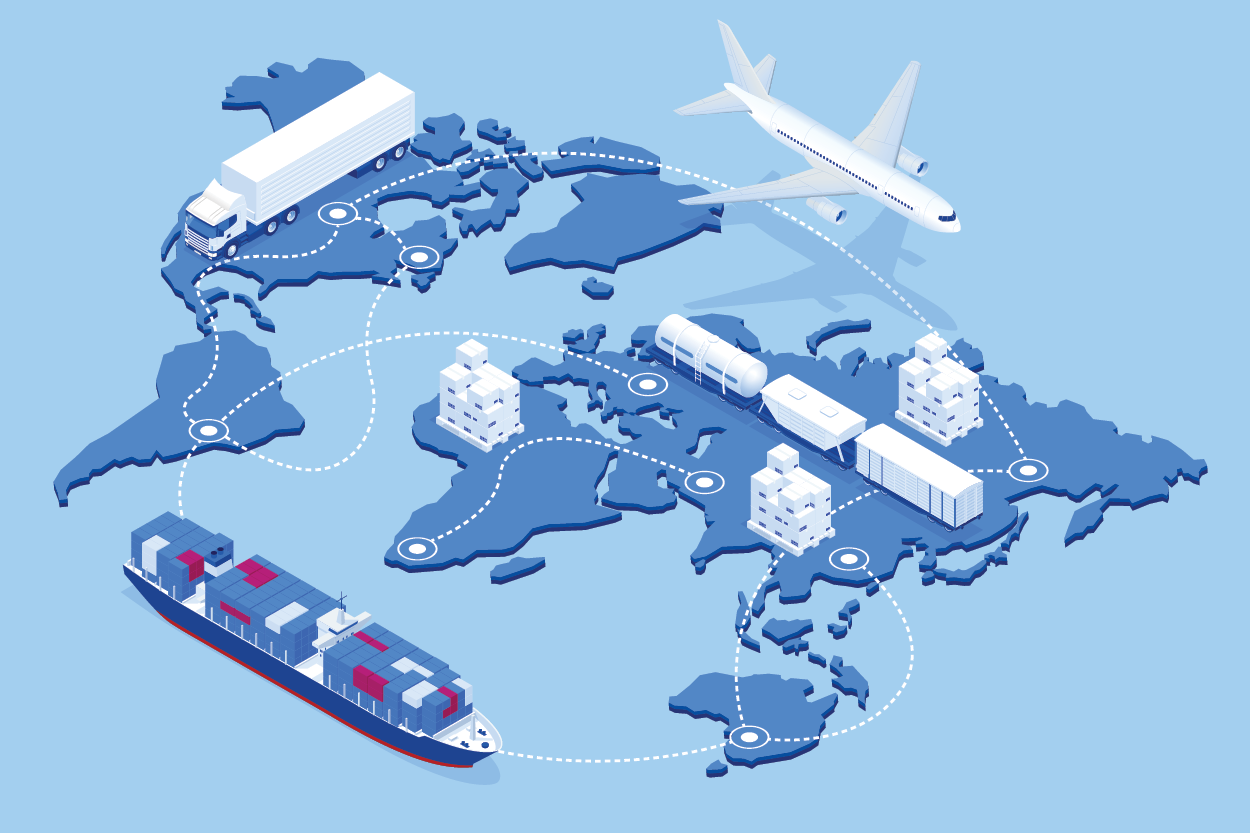 The need to standardize data to solve global supply chain issues has been a consistent theme at meetings to date of a maritime data initiative led by Federal Maritime Commissioner Carl Bentzel.
The virtual meetings of the Federal Maritime Data Initiative began in December 2021 and will continue into April 2022. Meetings have examined global supply chain issues from the perspectives of different groups of stakeholders.
The goal of the Federal Maritime Commission (FMC) initiative is to establish data standards and best practices for data access and transmission, which is essential not only for reliable and stable ocean transportation systems, but for the global supply chain.
Bentzel joined the California Chamber of Commerce last October for a virtual meeting on the state of U.S. ports and short- and long-term challenges in the shipping industry.
Comments from the data initiative meetings are summarized below.
Harnessing Technology
The first initiative meeting on December 7, 2021, focused on harnessing technology and innovation to create a more efficient supply chain system.
As goods pass from one step of the chain to the next (such as shipping carriers, terminals, truckers, forwarders, etc.), so does ownership of the data about those goods. Information is lost or loses accuracy as goods change hands.
Harmonizing all data information systems is crucial to solve supply chain challenges and drive future economic growth. Although such data systems already exist, there is a lack of communication between stakeholders
Data sharing must become common practice in order to predict and prevent bottlenecks in the system. This data would give "actionable intelligence" and allow stakeholders to create a better logistics plan and optimize use of assets.
Tracking individual containers using artificial intelligence can allow stakeholders to predict where problems might occur in the supply chain and how to prevent them.
Changes at the national level can help alleviate some problems, but the only way to create true resilience in the supply chain is through the use of shared data at a global scale, as the supply chain is inherently global.
Drayage Trucking
Drayage trucking was the topic of the December 14, 2021 meeting, joined by industry executives from across the country.
Many executives spoke not only of the need for standardization, but also of automation as truckers often are required to visit several different platforms to collect the data they need.
Unlike other components of the supply chain, drayage trucking doesn't run "point to point." Truckers may do a local move one day and a long haul the next, meaning there is a huge amount of variability in their operations. Lack of information creates friction in the system.
The need for real-time data updates is paramount for the trucking industry to create an efficient system, as the life cycle of data in the drayage industry is very short. When even a small amount of data is missing, it quickly creates inefficiencies in the system that lead to increased costs, time wasted, and backups in the ports. A solution is needed that will create a standardized process and is accessible for trucking companies, large and small.
Distributing Goods
The January 11 meeting featured comments by stakeholders from warehouses, distribution centers, and third-party logistics providers.
The conversation continued to be centered on the need for data to be integrated automatically into one location by pushing data to that system, rather than pulling information from various systems. Stakeholders also stressed the importance of real-time data, saying it is the difference between being proactive and reactive.
Warehouses operate most efficiently when material moves through them. If material does not move out rapidly because of bad data on the availability of outbound ocean containers or trucking, bottlenecks occur.
Examples of technology currently used elsewhere that could be applied beneficially to maritime transportation include the "Your wait will be X minutes from this point" used in lines for a ride at an amusement park; or the arrival and departure boards at airports that allow passengers and others to see in real time if a flight is on time and from where it is coming.
Reworking and applying to the maritime transportation industry these widely used methods of offering real-time data in other industries would allow for better efficiency and coordination and prevent congestion.
Cargo Owners
Representatives from the beneficial cargo owner community — the party that ultimately owns the product being shipped — participated in the January 18 meeting.
Participants emphasized the importance of standardized data and a standardized frequency of reporting that data, especially related to container movements because there often are changes and discrepancies in arrival dates.
Stakeholders from major nationwide retailers pointed out that 95% of containers that come into the United States are moved through third party providers. Many of the retailers obtain products from around the world, although a large percentage of goods come from Asia.
When their products arrive in U.S. ports, retailers often do a last-minute allocation of inventory as it flows into the domestic supply chain to find the best place to which to move the goods. Retailers move about 30% of goods directly into the retailers' nationwide distribution network. The remaining goods are moved to one of four major centers: New York/New Jersey, Savannah, Long Beach, and Seattle.
The beneficial cargo owners need to know quickly what is happening on the ground as they don't have time to develop elaborate reports to make decisions.
Chassis Industry
On January 25, stakeholders from the chassis industry pointed out that nonreal-time data originating from nonautomated sources eventually causes challenges when shared.
The "bad" data makes it difficult to forecast when assets are available for a new load. Moreover, there is a risk of human mistakes when data is entered by "fingers on keys."
The visibility of assets at terminals, whether marine or rail, historically has been a "black hole" for data, making it hard to determine when assets are available to be used by customers or what assets are being used by terminal operators. Notably, Southern California is one of the most complex terminal environments in the world.
One stakeholder suggested that global positioning systems (GPS) be used to help provide real-time data. The suggestion was acknowledged as a good first step, but it was noted that GPS doesn't provide the status of a given container or piece of equipment.
Others commented that processing containers coming off ocean liners based on the product inside would be more efficient; knowing what the unit contained would help determine whether it needed to be moved immediately or could be tended to within the next seven days.
Perhaps often overlooked as a choke point in the supply chain is that 85% of the world's chassis are made in China as are 100% of all drayage containers. This reliance on Chinese manufacturers could cause difficulties in the future if not addressed.
Future Meetings
Commissioner Bentzel is leading meetings with maritime and intermodal stakeholders through April. Initial findings from these meetings are expected to be presented at the FMC Maritime Transportation Summit, currently scheduled for June 1.
All meetings are open to the public and the FMC has made available a new email address where stakeholders can communicate any concerns related to the topic of maritime data at maritimedata@fmc.gov.
To see the dates and topics of the remaining initiative meetings, plus links for online viewing, visit the FMC Maritime Transportation Data Initiative website at www.fmc.gov.