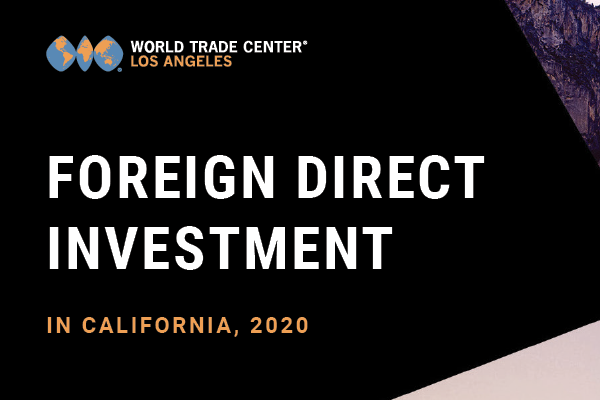 The negative impact of the pandemic on global commerce is reflected in this year's report on foreign direct investment in California.
Released on June 2, the 2021 Foreign Direct Investment Report for 2020 reveals the numbers behind the year of uncertainty and business restrictions, including reduced trade flows, declines in global production and economic growth, and a drop in foreign direct investment (FDI).
In 2020, an estimated 18,451 foreign-owned enterprises (FOEs) were operating in California, employing about 703,187 residents who earned an estimated $64 billion in wages.
The World Trade Center Los Angeles (WTCLA) released this sixth edition of its FDI report in conjunction with the David Nazarian College of Business and Economics at California State University, Northridge.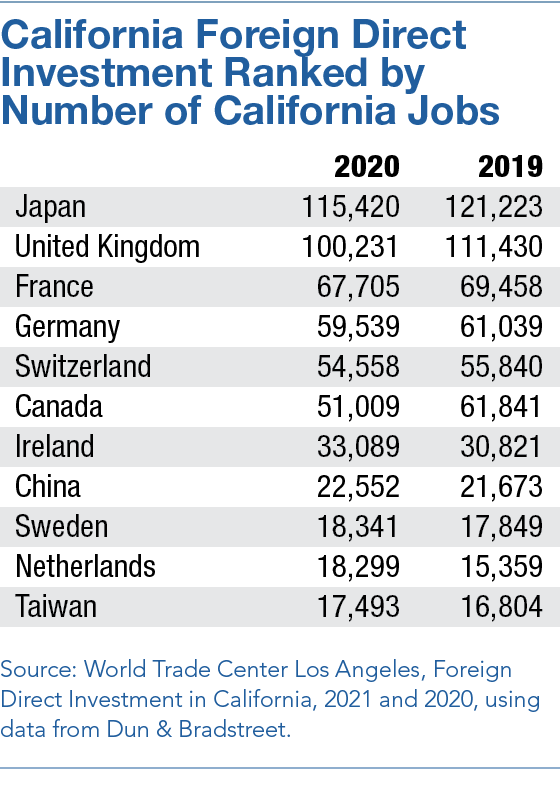 Top Investors
According to the report, Japan continued to be the top source of FDI in California, with 3,672 companies employing more than 115,000 California residents contributing $10.6 billion in wages.
Next was the United Kingdom with 2,380 companies employing 100,231 residents contributing $8.8 billion in wages.
Rounding out the top six sources of FDI were, in order, France, Germany, Switzerland and Canada. Companies based in each of these nations employed between 50,000–70,000 California residents bringing in between $5.2 billion and $5.8 billion each in wages.
In 2020, these top six sources of FDI all reduced their number of employees in California.
Due to the pandemic, there were 27,461 fewer California residents employed by FOEs and 267 fewer FOEs operating in California in 2020. This resulted in a loss of $1 billion in wages compared to 2019.
Shifts in Employment
The top-ranked FDI nations continued to lead in total number of Californians employed while reducing their presence in the state during the pandemic.
FOEs from the United Kingdom and Canada, for example, reduced their presence with 11,199 and 10,832 fewer employees, respectively, in California in 2020 than in 2019.
FOEs from the Netherlands and Ireland each added more than 2,000 workers within the state.
The changing times also changed patterns in growth; the retail industry saw the greatest year-over-year growth in 2020 with 9,500 jobs and 462 companies added in California, while the financial, information, wholesale and manufacturing industries suffered significant losses.
Five countries all increased the number of FOEs in California and the residents employed by the firms, in order: the Netherlands, Ireland, China, Taiwan and Sweden.
Ireland and the Netherlands saw the biggest increase in employees, employing 2,268 and 2,940 more residents than the previous year, respectively. Irish-owned FOEs contributed $3.1 billion in wages to California, while Dutch-owned FOEs contributed $1.32 billion in wages.
Regional Variations
As in previous years, the 10 counties of Southern California attracted the majority of the state's FDI, with 60.5% of all California FOEs and 63.2% of all California FOE employment.
The 15 counties of the San Francisco Bay Area accounted for about 31% of FOEs and employment. The remaining 23 California counties accounted for the rest.
California is the No. 1 state for residents employed by FOEs. Data from the Bureau of Economic Analysis show that California is the top state for FDI in manufacturing, wholesale trade, retail trade, and information in terms of the number of employees employed by FOEs.
More Information
For more information on country-specific data from the top 24 sources of FDI in California, please see the WTCLA's 2021 Foreign Direct Investment Report or the CalChamber's international trading partner portals.