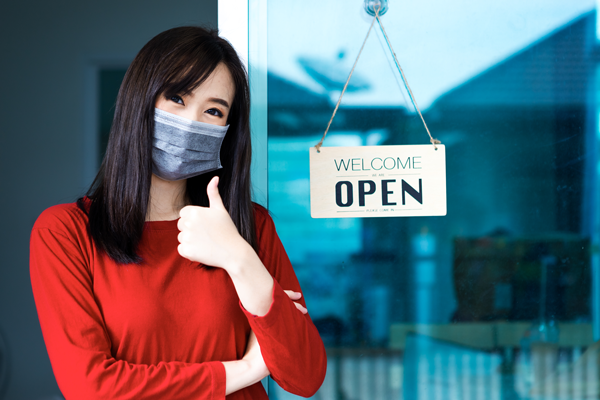 This week, Governor Gavin Newsom set a June 15 benchmark for fully reopening the state's economy. He emphasized that moving on is contingent on Californians continuing to wear masks and remain vigilant to curb the spread of COVID-19.
A news release from the Governor's office cited two criteria for fully reopening on June 15:
• If vaccine supply is sufficient for Californians 16 years and older who wish to be inoculated; and
• If hospitalization rates are stable and low.
CalChamber Comment
In response to the Governor's announcement, California Chamber of Commerce President and CEO Allan Zaremberg said in a statement:
"The diligent efforts of all Californians to follow COVID-19 safety protocols will pay off on June 15th. Californians should be congratulated for their sacrifices and patience in working to protect public health.
"We also appreciate the Governor's leadership to safely reopen California's economy. California is leading the way on safety as we see vaccination rates climb and hospitalization and infection rates fall sharply."
Zaremberg said the Governor's April 6 announcement "is especially welcome news as we enter California's peak tourism and recreation season. As we all know, tourism, hospitality and restaurants suffered disproportionate economic hardships due to the pandemic shutdowns.
"Finally, vaccines will be crucial to successful and safe reopening of the California economy. This means we all must take our responsibility seriously by getting vaccinated as soon as possible and continuing to follow all mask and social distancing protocols. Our vigilance will ensure success. Our economy needs to be fully open, with small businesses thriving and Californians back to work as soon as possible."
Statewide Vaccine Statistics
As of April 7, more than 21.4 million vaccine doses had been administered statewide, according to the state's COVID-19 dashboard. That translated to 19.1% of the population being partially vaccinated and 24.9% of the population being fully vaccinated.
"Partially vaccinated" individuals have received at least one dose of either the Pfizer or Moderna vaccines (both require two doses for the highest protection). "Fully vaccinated" individuals have received two doses of the Pfizer or Moderna vaccine or one dose of the Janssen (Johnson & Johnson) vaccine.
The Governor said at his April 6 news conference that the state anticipates the number of vaccine doses administered to surpass the 30 million mark by the end of the month.
He cited the supply of vaccines manufactured as a key constraint on the doses delivered, saying the state system is designed to administer more than 5.8 million doses a week, while the current supply is about 2.5 million a week.
More information about the COVID-19 vaccines, how they work, questions and answers, and more is available at covid19.ca.gov/vaccines.
COVID-19 Numbers
As of April 8, California had recorded 3,588,152 cases of COVID-19 and 58,788 deaths, according to the state dashboard. The rate of 4.8 new cases per 100,000 persons and 0.14 new deaths per 100,000 persons was a decline from the previous seven-day average. The test positivity rate was 1.9%, a slight rise.
The Johns Hopkins Coronavirus Resource Center showed California as having the lowest test positivity rate in the nation (1.0%) on April 8.
The number of COVID-19 hospitalized patients in California was 2,312 as of April 7, a sharp decline from the peak of 22,550 hospitalized patients reported on January 12, according to the state dashboard. There were 534 COVID-19 patients in intensive care units (ICU), also a drop from the 4,929 peak on January 12. The number of available ICU beds (2,277 on April 7) was about a hundred more than a year ago.
Statewide, 32 of the 58 counties — representing 80.5% of the state's population — had dropped to the orange (moderate virus presence) this week. In the red tier (substantial virus presence) were 22 counties (18.7% of the population).
Just two counties (Inyo and Merced — 0.8% of the population) were in the purple tier (widespread virus presence). Still holding in the least restrictive yellow tier (minimal virus presence) were two of the state's least populated counties, Alpine and Sierra.
Blueprint Update
In announcements on April 2 and April 6, the California Department of Public Health (CDPH) updated the state's Blueprint for a Safer Economy to allow more activities to resume "with modifications to reduce risk."
Private events or meetings, such as receptions or conferences, can resume starting April 15 as long as they require pre-purchased tickets or a defined guest list and assigned seating, according to the CDPH. Only in-state visitors are allowed. The number of attendees allowed increases according to the tier in which the venue is located and whether guests are tested or show proof of full vaccination.
Indoor live events or performances also may begin April 15 subject to similar restrictions. The number of attendees also is tied to the capacity of the venue.
Local public health departments may implement policies that are more restrictive than the state's.
In its April 6 memo, the CDPH explains that with the June 15 reopening, "Common-sense health measures such as masking will remain across the state. Testing or vaccination verification requirements will remain in relevant settings."
For large-scale higher-risk events, the CDPH memo calls for continued compliance with the Cal/OSHA Emergency Temporary Standard and other statewide agency guidelines, such as masking, testing and testing or vaccination verification requirements.
Conventions will be capped at 5,000 persons until October 1, unless testing or vaccination status is verified for all attendees, according to the CDPH memo. International convention attendees will be allowed only if fully vaccinated.
The CDPH website with links to the Blueprint for a Safer Economy updates is at cdph.ca.gov.