When the coronavirus pandemic hit last year and local small businesses struggled to survive, the Oakland African American Chamber of Commerce (OAACC) launched a grant program to help with major support from a number of CalChamber members.
In just 90 days starting in late April, the OAACC resiliency fund raised more than $1 million from corporations, charitable funds, private businesses and individuals throughout the San Francisco Bay Area.
"This is an opportunity for us to come together," OAACC President and CEO Cathy Adams said in a Facebook video asking for contributions to the resiliency program, a theme repeated in the program website headline: "Reopening Black Businesses Together."
Among the more than 200 companies and individuals responding to Adams' appeal were CalChamber members: The Clorox Company ($200,000), Blue Shield of California ($100,000) and Kaiser Permanente ($100,000).
Other sponsors included CalChamber members OUTSOURCE Consulting Services, Inc., Comcast, JP Morgan Chase, Safeway, the Oakland A's, First Republic, Umpqua Bank, San Francisco Foundation, Fox Rothschild LLP, Morgan Stanley, and East Bay Municipal Utility District (EBMUD).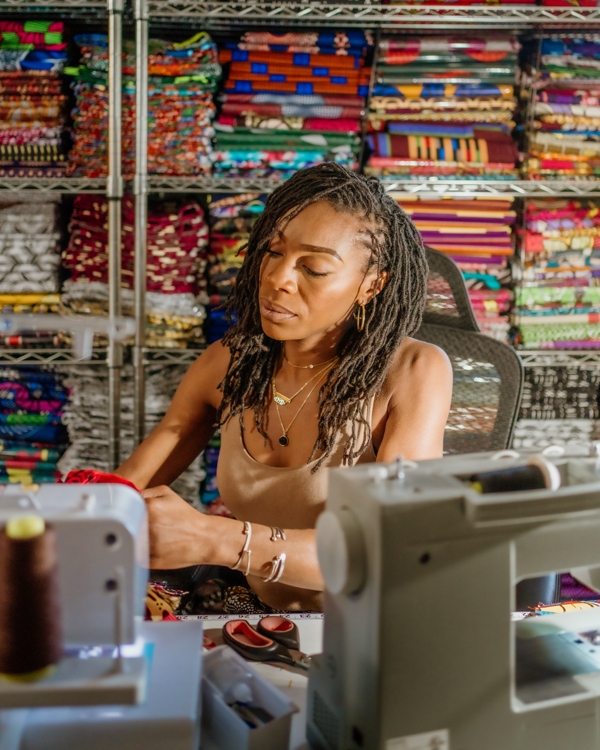 Helping Businesses Pivot
Grants from the resiliency fund ranged from $2,500 to $10,000, providing relief for expenses such as rent, equipment, supplies, technology and financial training.
Small business owner Iguehi James of Love Iguehi fashions used her $5,000 grant for added costs, including buying some material at retail prices because it was the fastest way to obtain a fabric, as well as to hire a photographer to help further develop her website and pay for online ads to drive traffic to the site.
She also began making face masks in addition to the colorful head wraps, dresses, skirts and kaftans cut from African Ankara prints that are the hallmark of her custom clothing and apparel company.
"At a time of great uncertainty, the OAACC Resiliency Fund provided financial support for Love Iguehi," said James in an email. "The funding gave us confidence to transition our product line to reflect the shifting desires of our customer base during these times. Fortunately, as a relatively new small business, we can say our pivot to new products allowed our company to continue to grow in 2020 and we look forward to a successful 2021."
Another recipient of a $5,000 grant, Robert Dorsey, chief and owner of Robert Dorsey Catering & Events, used the money to help pay workers, including a prep cook and a delivery and operations person. He also contracted with social media and public relations experts to help him rebrand his business.
Chef Leilani Baugh, another grant recipient, moved her Magnolia Street Wine Lounge and Kitchen, changed her business model and bought new equipment. She redid her restaurant to accommodate outdoor dining and takeout orders, and in late August 2020 was preparing 300 meals for local residents in need, partnering with Chef José Andrés and his World Central Kitchen.
Temporary Relief
"We are aware that these grants will in no way make up for all of the financial losses experienced by many of our members, their families and employees; the intent is to provide relevant short-term relief," OAACC Board Chairwoman Shonda Scott told the Post News Group in August 2020.
Sales for Love Iguehi, for example, dropped about 95% in the spring of 2020 when the stay home orders left local marketplaces empty and conferences and trade shows were postponed.
Why Businesses Help
"We could not have done this alone but for the benevolence and goodwill of others…they have truly become a lifeline for our businesses," Adams told the Post News Group in August 2020.
Kimberly Goode, senior vice president of external affairs for Blue Shield of California, summed up the reasons for the company's support of the OAACC resiliency fund and other community causes in a December 2020 news item:
"We understand how this pandemic and the economic uncertainty from it is impacting health and well-being of communities we serve. We also know communities of color have been disproportionately affected, and this is one way we are working to close the gap.
"The pandemic has reminded all of us that caring for each other unites us, strengthens us and prepares us to be our best in good times and challenging times."