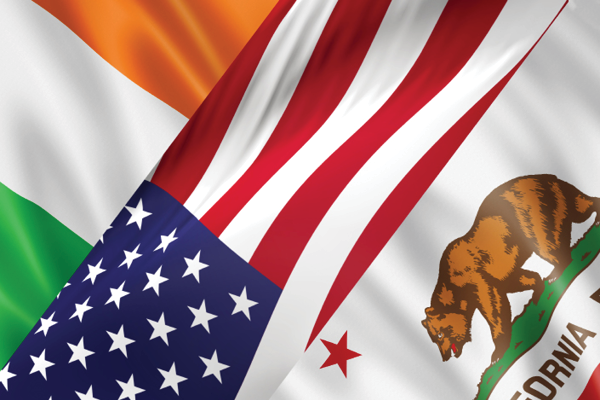 The California Chamber of Commerce joined a trade and investment roundtable with the American Chamber of Commerce in Ireland this week to celebrate the launch of Invest in California: A Guide for Irish Companies.
AmCham Ireland launched its guide on January 13 in association with the Consulate General of Ireland in San Francisco, Enterprise Ireland, and the California Governor's Office of Business and Economic Development (GO-Biz).
Roundtable host, AmCham Ireland's 2021 President, Gareth Lamb, put a spotlight on deepening trade ties between California and Ireland. Lamb is the head of Facebook Ireland and Facebook's vice president of international sales operations, further demonstrating the connection between Ireland and California, home to Facebook headquarters.
The roundtable featured California Lieutenant Governor Eleni Kounalakis and Irish Minister of State Robert Troy. Lieutenant Governor Kounalakis discussed the unique qualities of California that attract foreign investment.
Joining her later was Conor Neylan of AmCham Ireland, who led a more detailed discussion with Kaina Pereira, GO-Biz senior adviser of business development and international trade. Pereira highlighted GO-Biz tools for companies looking to invest in California, emphasizing that GO-Biz is there to walk companies through every step.
Troy, who is the Irish Minister of State with responsibility for trade promotion, spoke about the special connection that Ireland has to California.
The roundtable included discussion of Ireland's new Global Ireland 2025 initiative. A key component of the initiative is enhancing trade and investment with California in order to double the scope and impact of Ireland's global footprint in the years ahead. Enterprise Ireland, the government organization responsible for the development and growth of Irish enterprises in world markets, is working to help achieve this.
U.S.-Irish Trade
Two-way trade between the United States and Ireland totaled approximately $70.79 billion in 2019. In 2019, the U.S. exported more than $9.03 billion in goods to Ireland, a number that generally has increased over the previous years. Top exported products included chemicals, computer and electronic products, oil and gas, and manufactured commodities.
The U.S. imported $61.76 billion from Ireland in 2019, an increase from $57.4 billion in 2018, with chemicals making up 71.7% of the total. (U.S. Department of Commerce)
California-Irish Trade
Irish companies employ approximately 100,000 Americans in the U.S., and of those about 10% or 10,000 jobs are in California, according to the Irish Consul General in San Francisco (February 2019). Approximately 140 Irish companies now are established in the Western United States, primarily in California. California-Irish ties run deep, with 10% of Bay Area residents identifying as Irish Americans.
In 2019, California exported almost $1.1 billion to Ireland, providing 11.8% of total U.S. exports to Ireland, and making California one of the top exporting states to Ireland. Top exported products in 2019 included computers/electronic products and chemicals, accounting for 39% and 21.9% of the total, respectively, followed by manufactured commodities and special classification provisions.