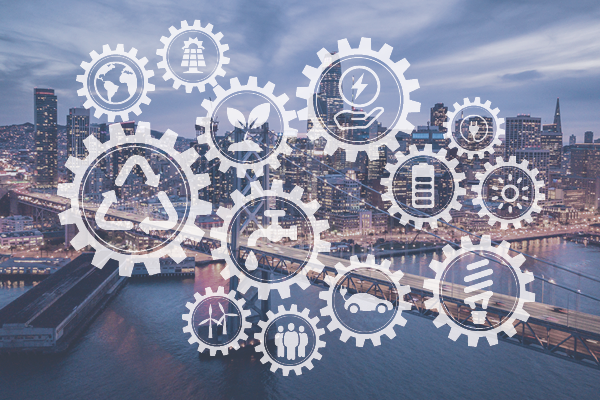 Reading the news these days, it is easy to get lost in the rhetoric of climate change. But in California, we've long moved past that dispute and into the realm of how to achieve our climate goals while balancing the stark economic reality that we California residents use a lot of power, buy a lot of products, and drive a lot of miles.
The increased costs of pushing technological advances through regulation rather than through private investment are not theoretical, and they often fall on the poorest of Californians living in less temperate areas of the state.
It is important to remember that California has been at the forefront of climate reduction policies for decades and is far, far ahead of its sister states. This is well known to California companies, who are leaders in climate innovation and have made sustainability a central mission.
California Climate Goals
California's already-ambitious climate goals are well known on a global level. California is required to reduce carbon emissions 40% below 1990 levels by 2030 and 80% by 2050. California's utilities are required to reach 60% renewable energy (inexplicably excluding zero-emission nuclear and large hydroelectric power) by 2030 and 100% by 2045, with this latter goal being enacted just over a year ago.
Governor Edmund G. Brown Jr., and now Governor Gavin Newsom have made it the policy of the state to reach "carbon neutrality" by 2045, sell 1.5 million zero-emission passenger vehicles by 2025 and 5 million by 2030. Just this summer, the California Air Resources Board passed stringent regulations on emissions from vessels at California ports, and adopted a first-in-the-world zero-emission truck rule, requiring between 40%–75% (depending on truck class) to be zero-emission by 2035.
Governor Newsom also recently summarized the actions being taken by the Air Resources Board in an executive order and directed them to explore options for zero-emission passenger vehicles by 2035.
But listening to the political rhetoric, one would think that California is dragging its feet on climate and sustainability. Nothing could be further from the truth.
Like the technological powerhouse that they always have been, California companies, and in particular California Chamber of Commerce member companies, continue to lead on reducing carbon emissions and meeting the 2018 Paris Agreement goals of limiting carbon emissions to 2% above pre-industrial levels.
California is a signatory to that goal, and its legislation builds upon and often exceeds that goal. So too do California's companies voluntarily invest in carbon emission reduction strategies, many with goals that seek to far exceed the Paris Agreement.
Leaders in Cutting Emissions
CalChamber companies and their shareholders are not in need of additional governmental regulation to look to the future of carbon emission reductions. In fact, they are leading the charge.
Most recently, 16 CalChamber member companies ranked among the top 25 corporate users of solar energy in the country, according to the Solar Energy Industries Association.
Below are but a few examples of the private investment made by California and CalChamber member companies to meet and exceed the world's carbon emission reduction goals.
Hospitality
In the hospitality arena, the Walt Disney Company is investing in solar facilities to power its parks and runs its Mark Twain Riverboat at Disneyland on biodiesel made from recycled cooking oil.
Southern California-based Evans Hotels has, for 12 years running, achieved the highest level in California's Green Lodging Program, utilizing low energy lights, collecting and composting 100% of its food waste, and investing in green laundry water programs.
Transportation
CalChamber companies are also changing the game on transportation, with auto manufacturers regularly announcing new lines of low- and zero-emission vehicles.
The Carbon Disclosure Project also recently designated Ford with "Climate A List" status for its carbon emission and sustainability achievements and goals.
Kern Oil & Refining Co. has increased production of renewable diesel made from reclaimed tallow to up to 10% of its output.
Both Lyft and Uber have committed to ambitious goals to put large numbers of zero-emission vehicles on the roads within the decade.
FedEx has also set ambitious goals to reduce aircraft emissions by 30% this year.
Housing/Food
Tejon Ranch, building homes to meet California's housing shortage, voluntarily conserves more than 246,000 acres of land, sequestering 3.3 million tons of carbon per year—equivalent to the emissions of 2.5 million vehicles.
Full Harvest was founded on the principle of achieving no food waste—working with California farms to find markets for products that could otherwise go unused.
Energy
California's utilities have also made great strides in reducing their carbon footprint, with Southern California Gas Company investing heavily in renewable natural gas, while Pacific Gas and Electric and Southern California Edison continue to innovate on reducing carbon emissions, investing in renewable resources, and educating customers on energy efficiency to reduce energy usage while trying to keep energy rates low for all Californians.
In the energy realm, large users of energy such as Albertsons Companies, conducted more than 1,400 energy efficiency programs across 475 stores, and committed to 100% use of recyclable, reusable, or compostable packaging for its "Our Brands" store brands.
Amazon has committed to becoming 100% renewable powered by 2025 and this year founded the Climate Pledge to encourage additional companies to help beat the Paris Agreement by a decade.
CalChamber member companies are no strangers to innovation. As shown by their adaptations during this trying time, California companies are quickly adapting to each "new normal."
It is important to encourage, rather than limit by choosing winners and losers, the innovation that California companies are known for. These are important lessons to keep in mind as we continue to meet our climate goals.