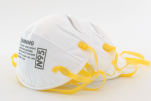 In the midst of COVID-19, it is easy to forget the host of other regulations and obligations with which businesses must comply in California.
As summer temperatures continue to be high and winds pick up, one regulation to keep an eye on is Cal/OSHA's Wildfire Smoke Protection Emergency Regulation (Section 51.41.1), which (among other provisions) requires employers to have N95 respirators on hand for their employees when the Air Quality Index (AQI) for PM2.5 hits 150—or close down.
N95 Shortages
As we all know, COVID-19 has made N95 shortages a worldwide issue for much of 2020, and what scant supplies can be located are prioritized for health care. With this shortage hanging in the air, the question employers have been asking is: How are we supposed to purchase what can't be purchased? Or, in other words, what do you want us to do when the AQI rises if N95 masks aren't available or are infeasibly expensive due to COVID-19?
For a while, it seemed like a solution was forthcoming. Shortly before the June Cal/OSHA Standards Board meeting, the California Chamber of Commerce sent a public letter to Cal/OSHA Chief Doug Parker and others outlining this difficult scenario and requesting some alternative compliance mechanism be found.
Nothing Published
Shortly thereafter, at the June 18 Standards Board meeting, staff indicated that they were testing alternatives such as KN95 respirators, and intended to publish a list of suitable alternative compliance devices. Though the indication was promising, two months later, there is no published alternative compliance mechanism.
This leaves businesses across the state stuck between the same proverbial rock and a hard place—compete with health care for scant N95s at unprecedented prices in order to stockpile for the potential of a wildfire, or close down if AQIs rise?
We have only just started the wildfire season in California, which generally lasts until fall. Both July and August have seen multiple wildfires (though none appear to have raised AQIs to the 150 threshold).
Cal/OSHA should act immediately to provide an alternative so that employers have a realistic option to protect their employees in the unfortunate event of another wildfire.