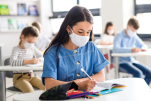 In response to COVID-19 flareups in multiple counties, Governor Gavin Newsom last week ordered all counties to close indoor operations of certain sectors as of July 13.
In addition, personal care businesses and others in counties on the state Monitoring List for three consecutive days were required to close unless they could be modified to operate outside or by pick-up.
The monitoring list is a significant factor in the Governor's "Pandemic Plan for Learning and Safe Schools," released on July 17, and the California Department of Public Health (CDPH) framework outlining the conditions under which K–12 schools may reopen for in-person instruction, as well as when to close and revert to distance learning due to COVID-19 infections.
CDPH also released COVID-19 guidance for schools and school-based programs.
Closed Statewide
Ordered to be closed statewide as of July 13 are:
• Dine-in restaurants;
• Wineries and tasting rooms;
• Movie theaters;
• Family entertainment centers (for example: bowling alleys, miniature golf, batting cages and arcades);
• Zoos and museums;
• Cardrooms.
In addition, bars, brewpubs, breweries and pubs were required to close both indoor and outdoor operations statewide, unless they are offering sit-down, outdoor dine-in meals. Alcohol can be sold only in the same transaction as a meal.
In Monitoring List Counties
As of July 23, the state's monitoring list included the population centers—Southern California, the Central Valley and San Francisco Bay Area—35 of the 58 counties. Of the mid-coast counties, only San Mateo and Santa Cruz counties were not on the monitoring list.
Required to be shut down unless their activities could be modified to operate outside or by pick-up are the following in counties that have remained on the state's Monitoring List for three consecutive days:
• Gyms and fitness centers;
• Places of worship and cultural ceremonies, like weddings and funerals;
• Offices for non-critical infrastructure sectors;
• Personal care services, like nail salons and body waxing;
• Hair salons and barbershops;
• Shopping malls.
Shops that offer tattoos, piercings and electrolysis may not be operated outdoors and must close.
School Reopening Guidance
Both the Governor's pandemic plan and the CDPH guidance state that schools may not open for in-person instruction until their county has NOT been on the county monitoring list for 14 consecutive days.
Other requirements include:
• Masks or face coverings for all staff and students in 3rd grade and above. Face coverings are strongly encouraged for students in 2nd grade and below.
• Physical distancing: The CDPH guidance calls for school staff members to maintain physical distance from each other, for teacher and staff desks to be at least 6 feet away from student desks, and for schools to consider ways to establish separation of students through means such as 6 feet between desks, markings on classroom floors to promote distancing or "arranging desks in a way that minimizes face-to-face contact."
• Health screening for staff and students entering the school and sending home those showing a fever or other symptoms. If someone the staff members or students live with has been diagnosed with COVID-19, staff and students should stay home. Schools should develop policies "that encourage sick staff and students to stay at home without fear of reprisal," and make sure that staff, students and students' families are aware of the policies, according to the guidance document.
• Establish a written, site-specific COVID-19 prevention plan and develop a plan for the possibility of repeated closures of classes, groups or entire facilities when persons associated with the facility or in the community become ill with COVID-19.
• Clean and disinfect frequently touched surfaces at school and on school buses at least daily.
Staff Testing
The CDPH recommends that once schools are open to in-person instruction the staff in every California school be tested for COVID-19 periodically "as testing capacity permits and as practicable," depending on local disease trends.
The state will provide resources and technical assistance for COVID-19 investigations in school settings, according to the Governor's news release.
More Information
The framework and overview are presented in the CDPH document.
Detailed guidance is presented in the COVID-19 Industry Guidance: Schools and School-Based Programs from the CDPH and Cal/OSHA.