Restoring confidence and supporting economic growth are two keys to moving forward from the COVID-19 pandemic, the CEO of a Central Valley cheese producer told an Assembly budget subcommittee this week.
David Ahlem, CEO of Hilmar Cheese Company, Inc., was among panelists speaking via remote video at the Assembly Budget Subcommittee No. 6 informational hearing on COVID-19 Recovery and Economic Stimulus on April 27.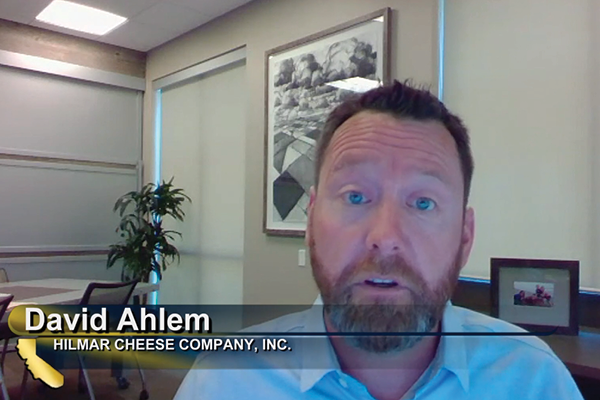 Hilmar Cheese Company, a California Chamber of Commerce member, was founded in 1984 by 12 farmer families and today pools supplies from 200 independent dairy farm families, Ahlem explained. The company has both domestic and global sales, manufacturing sites in Hilmar, California, and in Dalhart, Texas, and employs nearly 1,000 people in California's Central Valley.
Charles Ahlem, founding co-owner of Hilmar Cheese, is a member of the CalChamber Board of Directors.
Protecting Lives, Livelihoods
During the last few months, David Ahlem said, the company's focus has been "to protect lives and livelihoods."
He praised and voiced appreciation for the company's employees and dairy producers for carrying out their special responsibility to "produce food for the world during a time of great uncertainty."
Hilmar Cheese is part of an extensive supply chain involving dairy farmers, processors, packaging converters, retailers and food service operators. Altogether, the chain supports more than 400,000 direct and indirect jobs.
In recent months, he reported: dairy farmers have seen income fall well below the cost of production; retail customers' business is up overall, but "riddled with volatility and the challenges of operating" in the current environment; food service demand "has fallen off a cliff"; and the value of the cheese Hilmar sells has dropped more than 40%.
Helping Economy
When it comes to restoring confidence, Ahlem said, the more "we can aggressively support, incentivize and adopt" new, safe ways that allow a return to things like eating out, shopping, going to school and the movies, "the quicker we get back on track. This activity drives demand, and demand gets people back to work."
Supporting and not hindering economic growth is imperative, Ahlem said.
"Our economy is like a fleet of ships," he commented. "Some have sunk and are sitting at the bottom of the sea," while others are "partially submerged."
Now is not the time to throw more weigh onto the surviving ships, he said. "It is time to reduce weight and increase buoyancy for the benefit of everyone."
The video of Ahlem's remarks is available on the Assembly media on demand website. His remarks begin at time stamp 54:02.