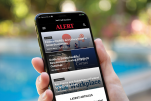 As the COVID-19 pandemic continues, the California Chamber of Commerce is suspending production of the printed version of the Alert newsletter, starting with the April 17, 2020 edition.
The CalChamber will continue to publish Alert, including the pdf version that mirrors the print publication. Links to the pdf file will continue to be available at calchamberalert.com, along with the online versions of all stories.
Readers can ask to be added to the e-Alert distribution list by emailing alert@calchamber.com or sign up for the CalChamber Alert app at calchamberalert.com/app.