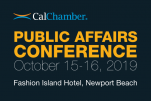 The early registration deadline is approaching quickly for the California Chamber of Commerce Public Affairs Conference.
The conference is set for October 15–16 at the Fashion Island Hotel, Newport Beach. Registration rates increase after September 12.
Tuesday, October 15
The opening conference session at 1 p.m. on October 15 will focus on the CalChamber Annual Survey of California Voter Attitudes.
Pollsters Robert Green and Adam Rosenblatt of PSB Research will review the survey results.
Next on the agenda at 2 p.m. is "California: 2020 Vision Election Preview," moderated by Martin R. Wilson, CalChamber executive vice president public affairs.
The panelists will be Andrew Acosta, Acosta Consulting; Bob Giroux, Lang Hansen, O'Malley & Miller; and Christy Wilson, Wilson Public Affairs.
The first of three bipartisan legislative panels, set to begin at 3:15 p.m., will examine what happened in the first year of the 2019–2020 session and what remains for the second year of the session.
Wednesday, October 16
The agenda for October 16 will open with a media panel providing "The View from the Fourth Estate."
The morning legislative panel will focus on "A Taxing Conversation—Legislative and Ballot Measures."
The afternoon legislative panel will examine the "California Consumer Privacy Act—The Process and the Work in Progress."
The afternoon agenda also will include a review of Governor Gavin Newsom's first year and future priorities.
Register Today
Conference registration includes dinner at Cucina Enoteca on Tuesday evening, the breakfast burrito buffet on Wednesday morning, and the reception on Wednesday evening at the Fashion Island Hotel.
September 12 is the deadline to receive the early registration discount.
Google and Southern California Edison are major sponsors of the conference.
To register for the conference, or for more information, visit www.calchamber.com/publicaffairs.