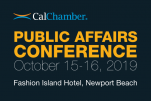 The California Chamber of Commerce has begun accepting registrations for the Public Affairs Conference this fall.
The conference is set for October 15–16 at the Fashion Island Hotel, Newport Beach.
The three legislative panels will cover a broad range of issues:
• 2019/2020 Legislative Review and Preview on Tuesday, October 15: a bipartisan panel of legislators will discuss what happened in the first year of the session and what remains for the second year of the session.
The agenda for Wednesday, October 16 will feature two legislative panels:
• The morning session is "A Taxing Conversation—Legislative and Ballot Measures."
• The afternoon session examines the "California Consumer Privacy Act—The Process and the Work in Progress."
The agenda also includes a look at the CalChamber's annual survey of California voter attitudes, a preview of the 2020 election, a panel discussion with media representatives, and a review of Governor Gavin Newsom's first year and future priorities.
Conference registration includes dinner at Cucina Enoteca on Tuesday evening, the breakfast burrito buffet on Wednesday morning, and the reception on Wednesday evening at the Fashion Island Hotel.

Southern California Edison is the major sponsor of the conference.
To register for the conference, or for more information, visit www.calchamber.com/publicaffairs.