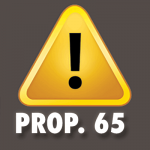 Regulators and legal experts will discuss how to help companies understand how to comply with the newest Proposition 65 warning regulations at the 14th Annual Prop. 65 Conference on September 23 in San Francisco.
Conference panelists will also discuss:
• how to calculate exposure levels in consumer products;
• responsibilities from manufacturers to retailers and third party internet markets; and
• ways to cure abuses in Prop. 65.
The conference will be chaired by Arthur Lawyer, principal at Exponent. Lawyer has 35 years of experience in environmental public policy and scientific initiatives, including advising clients about Prop. 65.
More Information
For more information, visit www.prop65clearinghouse.com. A full conference schedule is expected to be posted to the website in July.