Governor-Elect Gavin Newsom has asked California Chamber of Commerce President and CEO Allan Zaremberg to join the "All in California" program, a group of two dozen California leaders who will provide the new Governor with diverse ideas and perspectives as he prepares to step into his new role.
"I am grateful for the opportunity to assist Governor-Elect Newsom in every way possible during the transition period and look forward to doing all I can on behalf of the business community to help our new Governor succeed," said Zaremberg.
Upon announcing the list of appointees, Governor-Elect Newsom said, "These respected leaders will help me as I search for innovative ideas and talent across this state."
Newsom said his goal in creating the advisory group is to "create an inclusive, people-powered transition that reflects the diversity and values" of California.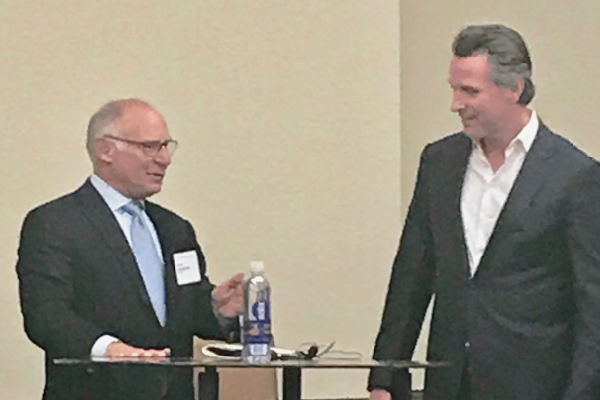 Ambassadors
According to a November 16 news release from the Governor-elect, leaders in addition to Zaremberg who have agreed to be "All in California" Ambassadors, include:
• San Francisco Mayor London Breed
• San Francisco Mayor Willie Brown (Ret.)
• State Senate President pro Tempore John Burton (Ret.)
• Laphonza Butler, President, Service Employees International Union (SEIU)
• California State Treasurer John Chiang
• California State Superintendent of Public Instruction Delaine Eastin (Ret.)
• California State Controller Betty Yee
• Los Angeles Mayor Eric Garcetti
• Long Beach Mayor Robert Garcia
• Alice Huffman, California NAACP President
• State Senator Christine Kehoe (Ret.)
• Monica Lozano, former chair, U.S. Hispanic Media, Inc.
• Congressman George Miller (Ret.)
• California Secretary of State Alex Padilla
• Incoming House Speaker Nancy Pelosi
• Art Pulaski, Executive Secretary-Treasurer and CEO, California Labor Federation
• Los Angeles County Supervisor Mark Ridley-Thomas
• Oakland Mayor Libby Schaaf
• Sacramento Mayor Darrell Steinberg
• Los Angeles County Supervisor Hilda Solis
• Tom Steyer
• Fresno Mayor Ashley Swearengin (Ret.)
• Stockton Mayor Michael Tubbs
• Los Angeles Mayor Antonio Villaraigosa (Ret.)
Governor-Elect Newsom will be sworn in on Monday, January 7, 2019.