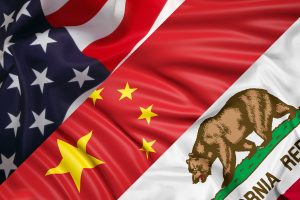 This week, President Donald J. Trump followed through on his stated intention last month, proposing tariffs on $50 billion worth of imports of Chinese-made products. The list of about 1,300 targeted products focused mainly on high-tech items.
China responded immediately to the President's April 3 action with 25% tariffs on imports of 106 U.S. products, covering everything from soybeans to automobiles, aircraft, and chemicals.
The U.S. tariffs won't go into effect immediately, as the administration is seeking input and will hold a public hearing for U.S. businesses on May 15.
U.S. Commerce Secretary Wilbur Ross indicated he expects trade actions will likely lead to a negotiated deal, but it is unclear when the talks will take place.
Before the tariffs are implemented, the administration will allow a consultation period to seek input from the business community.
Tariff Threat Clouds Gathering
Last month, on Wednesday, March 21, as President Trump's intention of imposing tariffs on exports from China loomed like a cloud, the Chinese Consul General, Ambassador Luo Linquan, hosted a reception and dinner for approximately 30 business leaders at his residence.
For photos and more details on dinner remarks, see the March 23 CalChamber Top Story.
The event focused on foreign direct investment into China, as well as China's outward foreign direct investment, but the President's pending actions were the dominant topic.
The Consulate-General of the People's Republic of China in San Francisco, which also has responsibility for Nevada, Oregon, Washington and Alaska, covers 35% of U.S. trade with China.
Attending the March 21 dinner were Northern California government and business leaders. Representatives of several California Chamber of Commerce member companies attended, in addition to Susanne T. Stirling, CalChamber vice president of international affairs.
Presidential Memo
The day following the dinner, on Thursday, March 22, President Trump signed a memorandum imposing retaliatory tariffs on Chinese imports. It was published in the Federal Register on March 27.
In response to the memo, the Chinese government announced it would be levying duties on 128 U.S. products, including dried fruits, nuts, wine and pork.
The retaliatory tariff hikes announced by the United States and China give weight to the CalChamber's deep concerns over the adverse consequences that increased tariffs can have on international trade and the state's economy.
Raising tariffs can result in higher prices to the consumer for the specific product protected and in limited choices of products for consumers. Further, it can cause a net loss of jobs in related industries, retaliation by U.S. and California trading partners, and violates the spirit of our trade agreements. The end result is that raising tariffs can cause a trade war.
CalChamber Support for Free Trade
The CalChamber continues to pursue a free trade-based agenda in 2018. CalChamber has long supported free trade worldwide, expansion of international trade and investment, fair and equitable market access for California products abroad, and elimination of disincentives that impede the international competitiveness of California business.
Although trade is a nationally determined policy issue, its impact on California is immense. California exports to more than 229 foreign markets.
Any rethinking of U.S. trade policies must recognize the gains achieved and ensure that trade remains strong and without interruption.