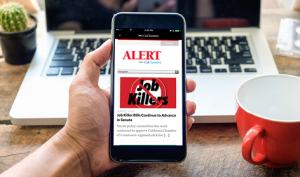 Readers looking for an easy way to stay up-to-date on proposed state and federal laws or regulations of interest to employers can download the CalChamber Alert app at www.calchamberalert.com/app.
In addition to coverage of the CalChamber's pro-jobs advocacy, the CalChamber Alert offers explanations of major court decisions affecting employers and the economy; special reports on job killer bills, the economy, ballot measures and legislative vote records; plus information on CalChamber compliance products and services.
A regular feature is a popular column answering common California employment law questions.
The latest version has been optimized for greater speed on iOS or Android platforms.