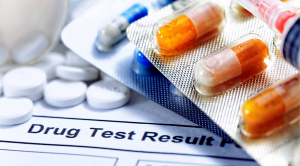 American workers tested positive for illicit drugs at the highest rate in 12 years, according to an analysis of more than 10 million workforce drug test results released by Quest Diagnostics, a large nationwide drug testing lab.
More than 1 in 25 workers fail their drug test: 4.2% of employee drug tests that Quest conducted were positive. This is a 5% relative increase over last year's rate of 4% and the highest annual positive drug test rate since 2004 (4.5%).
"This year's findings are remarkable because they show increased rates of drug positivity for the most common illicit drugs across virtually all drug test specimen types and in all testing populations," said Barry Sample, Ph.D., senior director, science and technology, Quest Diagnostics Employer Solutions, in a statement.
"Our analysis suggests that employers committed to creating a safe, drug-free work environment should be alert to the potential for drug use among their workforce," he said.
Positive Tests for Marijuana
Positive tests for marijuana were very common among U.S. workers, especially in states that have allowed recreational marijuana. Positive marijuana results from oral fluid tests increased nearly 75%, from 5.1% in 2013 to 8.9% in 2016. Marijuana positivity also increased in both urine testing and hair testing.
Employees in states that allow recreational marijuana use show positive drug tests at a rate more than double the national average. The number of employees testing positive in Colorado increased by 11% from 2015 to 2016. In Washington, the number increased 9%.
Recreational use of marijuana didn't become legal in California until late 2016, but there's no reason not to expect similar results in this state.
More Use of Other Drugs
Marijuana and opiate use have received a lot of national attention, but the Quest Diagnostics analysis points out that cocaine use continues "its troubling upswing not just in the general workforce, but in safety-sensitive jobs with federally mandated testing."
Positive drug test results for cocaine increased 12% in 2016, reaching a seven-year high of 0.28%.
Alarmingly, the rate of cocaine positives in post-accident testing was more than twice that of pre-employment drug tests and was also higher than the rate in random drug tests.
"While a positive test doesn't prove drug use caused the accident, it raises the question as to whether it played a role," said Dr. Sample.
Positive test results for amphetamines—which includes methamphetamines and Adderall, a prescription drug used for attention deficit disorder—also continued its year-over-year upward trend.
Positive tests for heroin remained about the same in the general U.S. workforce.
In Quest Diagnostics' analysis, the only decline was in prescription opiates. For example, positive test results for oxycodone have declined for four consecutive years, dropping 28% from 0.96% in 2012 to 0.69% in 2016.
Ability to Test
Beginning November 9, 2016, California joined several other states in legalizing recreational use of marijuana by adults. Proposition 64, also known as the Adult Use of Marijuana Act, legalized the recreational use of marijuana for adults 21 years old and over.
California employers, however, can take a deep breath of fresh air because Proposition 64 maintains the status quo for employers seeking to maintain a drug- and alcohol-free workplace.
Even with the passage of Proposition 64, employers may continue to prohibit use, possession and impairment at work and may continue to test for use when appropriate. Proposition 64 is not intended to interfere with these employment policies or practices.
Other Resources
California Chamber of Commerce members can read the Marijuana and Workplace Policies white paper on HRCalifornia. Nonmembers also can sign up to read the white paper there.
A recorded CalChamber webinar, Are Drug-Free Workplaces in California Up in Smoke?, is available for purchase in the CalChamber Store, www.calchamberstore.com.