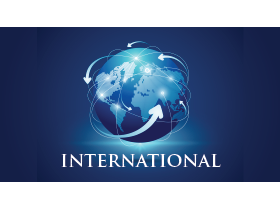 The many ways in which California and Mexico gain economic strength from their trade and investment connections were highlighted at an international trade luncheon on May 2.
About 100 guests attended the luncheon co-hosted by the California Chamber of Commerce, Consulate General of Mexico in Sacramento and Governor's Office of Business and Economic Development (GO-Biz).
The luncheon was part of the Eighth Annual California Mexico Advocacy Day, intended to increase the relevance of Mexico's relationship with the United States and California.
The speakers were Francisco Tovar, with Economic Affairs at the Mexico Embassy in Washington, D.C.; Benjamin De Alba, assistant secretary for rail and ports at the California State Transportation Agency; and Marcelo Sada, CEO of Source Logistics.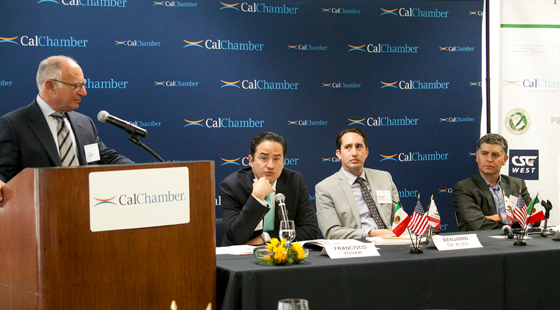 Mexico-California Relations
Tovar recapped statistics about trade between Mexico, the United States and California.
Mexico is the second largest export market for the United States and the No. 1 export market for California.
Mexican companies have invested more than $52 billion in the United States. The more than 6,500 Mexican businesses in the U.S. provide more than 120,000 jobs. Mexican companies operate 735 business establishments in California, providing 13,296 local jobs.
Co-Producers
The United States and Mexico don't just trade together, Tovar said, "we produce together." About 40% of Mexican exports contain U.S. parts, he pointed out.
U.S. exports benefit from Mexico's network of free trade agreements, he added. That network provides preferential market access to nations making up 70% of world gross domestic product and two-thirds of global imports.
Two examples of the U.S.-Mexico integrated supply chain are electronics and autos/auto parts. Mexico is the main auto parts supplier to the United States. In some cases, auto components cross the Mexico-U.S. border eight times before being put into the final product.
Trade Agreement
The North American Free Trade Agreement (NAFTA) has been a "crucial tool in modernizing relations in Mexico," Tovar said.
Since NAFTA was implemented, U.S.-Mexico trade has multiplied six-fold, so that trade between the two nations topped $500 billion last year, or $1 million per minute, Tovar said, citing statistics from the U.S. Department of Commerce.
California exports to Mexico increased 287% under NAFTA, he said.
Mexico is "more than ready" to start the negotiations to update NAFTA, Tovar said. Given the agreement's age, he said, there is room for modernization in areas such as e-commerce, energy and other regulations regarding labor and the climate.
Tovar and Sada emphasized the importance of the three NAFTA nations sitting down for negotiations with a win-win attitude to develop a trade agreement with benefits for all three nations.
Cross-Border Movement
De Alba described the work underway to speed the movement of goods and people between Mexico and California.
There are currently six ports of entry along the Mexico-California border. About 90% of goods from Mexico come loaded on commercial trucks, De Alba said. California accounts for the second most number of border crossings (more than 1.3 million), behind No. 1 Texas and ahead of No. 3 Arizona.
Two-thirds of the commercial truck border crossings into California occurred at Otay Mesa.
Passenger vehicles and pedestrians also make up a lot of the traffic at the border. In 2016, there were more than 31 million northbound passenger vehicle crossings and more than 16.9 million pedestrian crossings, De Alba said.
More than half of the northbound cross-border travelers in the San Diego region came to shop, he added.
The new port of entry under construction at Otay Mesa East will help reduce wait times, emissions and system efficiencies, De Alba said. The target border crossing time, he commented, is 20 minutes.
In addition to federal funding, the Otay Mesa East upgrade project is likely to receive some monies from SB 1 (Beall; D-San Jose/Frazier; D-Discovery Bay), the $52.4 billion transportation finance bill signed by the Governor on April 28. The bill package allocates about $3 billion over 10 years to improve trade corridors, such as border crossings.
From Closed to Open Economy
Sada pointed out that before NAFTA, Mexico was one of the most closed economies in the world, with many tax and nontax barriers (set up to protect Mexican businesses) to moving products into the country.
Today, Mexico is one of the most open economies in the world, Sada said. It has trade agreements with 46 countries.
The country has turned its export mix from being 60% oil-related before NAFTA to 83% manufactured goods in 2015, he said.
Citing the NAFTA benefits for both Mexico and the United States, Sada concluded, "What is good for Mexico is good for the U.S. The U.S. needs a stronger neighbor and partner."