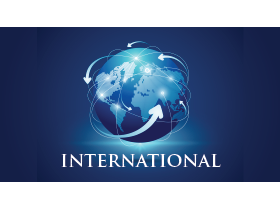 While there are areas that can be improved, the North American Free Trade Agreement (NAFTA) serves the employment, trading and environmental interests of California, the United States, Canada and Mexico, and is beneficial to the business community and society as a whole, panelists concluded at a discussion co-hosted by the California Chamber of Commerce this week.
CalChamber President and CEO Allan Zaremberg served as moderator of the May 8 luncheon gathering attended by more than 100 people. Speakers included: Brandon A. Lee, consul general of Canada; Pedro Noyola, Ph.D., former undersecretary of trade and foreign investment and undersecretary of finance of Mexico, and representative of Mexico in various trade negotiations; and Andrew Grant, president and CEO, Northern California World Trade Center.
The objectives of the CalChamber-supported agreement are to eliminate barriers to trade, promote conditions of fair competition, increase investment opportunities, provide adequate protection of intellectual property rights, establish effective procedures for implementing and applying the agreements and resolving disputes, and to further trilateral, regional and multilateral cooperation.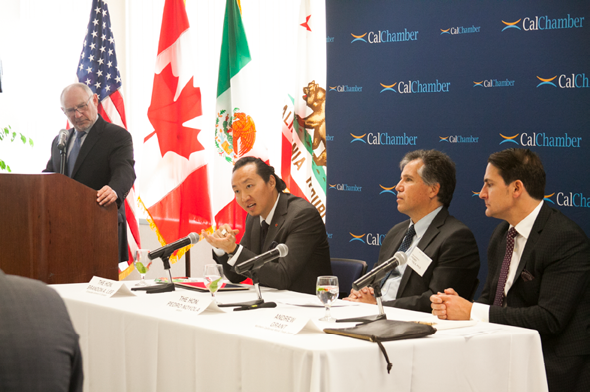 Rules-Based Trade Benefits All
Speaking for Canada, Consul General Lee explained that under NAFTA, all three countries have benefited from the open and predictable, rules-based trading environment that NAFTA created more than 25 years ago.
Trilateral trade within North America is one of the largest economic relationships in the world with more than $1 trillion in goods traded annually. In California alone, more than 1.6 million jobs depend on trade with Canada and Mexico, and more than $100 billion in goods and services are traded between the two countries and California each year.
Consul General Lee noted that nearly 9 million jobs in the U.S. depend on trade and investment with Canada and 35 states in the U.S. have Canada as the No.1 buyer.
To put NAFTA in perspective, he said, when you add the number of jobs that depend on Mexico and the U.S., which is 5 million, in total there are 14 million jobs in the U.S. that depend on trade with either Canada or Mexico.
"Fourteen million jobs is 10% of the U.S. workforce," Consul General Lee stated. "Trade leads to growth and growth leads to more jobs."
The future of trade policy in North America is coming, but changes to NAFTA are also needed, Consul General Lee explained. He promised that Canada will work with the U.S. and Mexico to put forth policy recommendations that will maintain NAFTA as a vibrant tripartite trade agreement.
"Free trade is not a zero-sum game," Consul General Lee said. "For someone to win, that doesn't have to mean someone else has to lose. In fact, when we looked at the trade numbers and the job numbers and the integrated nature of trade, this collaboration benefits all countries together, and this is a direct result of NAFTA."
Issues to Address
Dr. Pedro Noyola explained to the attendees that NAFTA faces logical and strategic difficulties that need to be addressed.
First and foremost, the means used to examine NAFTA's performance must be examined correctly, he explained.
Although a country's trade balance has been equated to a company's income statement, those are "two completely different things," Dr. Noyola said. "Trying to interpret a trade balance as you would the income statement of a company can lead to really serious problems."
One of the biggest problems is the data: 91% of the U.S. trade deficit is explained by trade that the U.S. does with countries with which the U.S. does not have a trade agreement. Nine percent of the U.S. trade deficit is explained by countries with which the U.S. has a trade agreement.
"The U.S. has been placed in a difficult situation. Literally, the country has been painted into a corner," Dr. Noyola said. "We can try to drag [the country] out and destroy the room that was just painted, but I think…we should just try to build a door in the corner of the room so that [we] can walk out."
This arrangement Dr. Noyola proposes has four pillars:
• Address the border trade. Border trade between the U.S. and Mexico is $2 billion a day. If an efficiency of 1% can be created in border crossings, that would be a huge monetary savings.
• Improve the Rules of Origin chapter of NAFTA.
• Address labor mobility by introducing a "seasonal concept" to immigration to address the seasonality of production.
• Security. Where should the security belt be in North America?
To properly address these concerns with NAFTA, they should be negotiated trilaterally, Dr. Noyola stated. In addition, during the negotiation process, there must be a standstill clause, that the current rules of trade will remain in place throughout the negotiation process. Third, nothing during the negotiation process should be agreed to until the entire agreement has been agreed to. Finally, Dr. Noyola said there should be a line in the sand for all countries, like there was when NAFTA was negotiated originally.
Tipping Point
Andrew Grant, president and CEO, Northern California World Trade Center, said there is a tipping point of what we can achieve through trade and what we lose because of increased international trade.
When reflecting on the recent presidential election, Grant framed the economics and relationship into two groups of voters:
• Voters who voted for something.
• Voters who voted because of something that might occur because of the decision.
"Any future trade agreement that we have with these countries and others needs to embody some of what people said when they made the choice to elect Trump," Grant said.
Question from Audience
Taking a few questions from the audience, panelists were asked: What can be done to make NAFTA better? The fact that the iPhone didn't exist when NAFTA was being crafted was used as an example to frame the types of important issue areas that have changed, evolved and therefore been left out of the agreement.
Consul General Lee said that the impact of technology is enormous and will be around every economy in the world.
"If we are open-minded and actually take advantage of the opportunities to set up our three countries for success…if we can find common ground, it will greatly help our three countries as the technology will come and change every sector that we know," he said.
Addressing the same question, Dr. Noyola explained that NAFTA can be strengthened while addressing some of the real anxieties in the countries' communities and without throwing away the entire agreement. Specifically, Dr. Noyola proposes to modify the Rules of Origin, which is a set of regulations that help the exporter determine what makes a product a North American good, and therefore subject to free trade transit among the three countries. He explained that there are 5,300 tariff lines and that tightening the extra regional allowances is one way to make NAFTA better.
From a strategic sense, Grant said that Mexico needs to be viewed less as a place of "blue collar labor and more as a place where the same things we expect from advanced economies come from Mexico as much as they come from other places and whatever provisions we make, we need to reframe that dynamic between the three [countries]."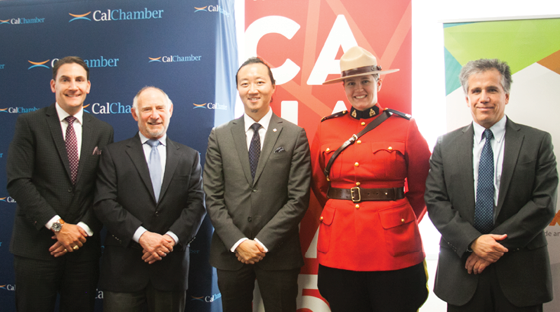 Canada Day
This year marks Canada's 150th anniversary, also known as the 150th anniversary of Confederation and promoted by the Canadian government as Canada 150. The San Francisco and Los Angeles consulates general traditionally host a Canada Day every March in Sacramento.
This year the annual luncheon was expanded to include Mexico and California to provide an opportunity to discuss trilateral trade and investment.