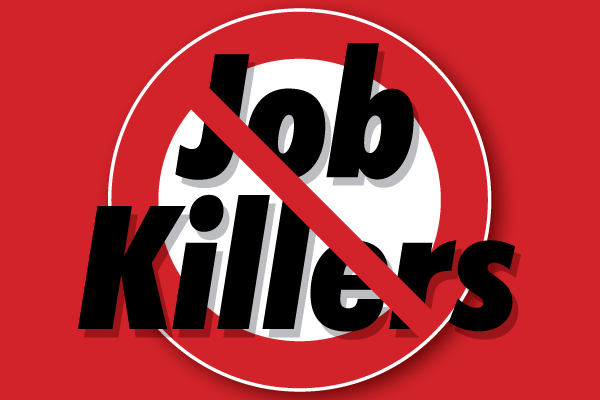 The California Chamber of Commerce this week identified two more job killer bills—one opening new avenues for shakedown lawsuits related to environmental laws, and the other exacerbating the already-problematic housing affordability crisis in California.
• SB 49 (de León; D-Los Angeles) is an overbroad bill that includes a private right of action for environmental laws similar to the Private Attorneys General Act provisions that have led to shakedown lawsuits for alleged labor and employment law violations.
• AB 199 (Chu; D-San Jose), will drastically raise the cost of housing, thereby making projects financially infeasible or exorbitantly expensive. This bill eliminates the long-standing residential exemption from prevailing wage rates, thereby making private, market-rate residential development a public work project for which a prevailing wage would be paid.
SB 49 is set for hearing March 14 in the Senate Natural Resources and Water Committee.
AB 199 is scheduled to be considered March 15 by the Assembly Labor and Employment Committee.
Environmental Overreach
An attempt to deal with California concerns about the uncertainty at the federal level associated with environmental laws identified in the bill, SB 49 is a premature, overbroad, and vague response to things that could happen in the future while in the present creating substantial uncertainty for businesses in advance of any such potential changes and correspondingly greatly increasing the potential for costly litigation.
SB 49 requires the state agencies to adopt the baseline federal standards in the federal Clean Air Act, the federal Safe Drinking Water Act, the federal Water Pollution Control Act, the federal Endangered Species Act, and "other federal laws" defined as unidentified laws "relating to environmental protection, natural resources, or public health."
If there is interest in preserving various federal environmental laws, the CalChamber believes a targeted approach where state agencies respond to federal action on a case-by-case basis is more appropriate.
Offering one example of the impact of SB 49, a practicing environmental attorney explained: "If passed, Senate Bill 49 would nearly double the number of listed species under [the California Endangered Species Act (CESA)] by adding 74 animals that are currently only protected under the federal Endangered Species Act (federal ESA). Further, Senate Bill 49 would arguably protect federal listed species from habitat modification that rises to the level of 'take' under the federal ESA, a protection those species do not currently enjoy under CESA. This could create many headaches for developers, in particular as they deal with a state agency that does not have the resources or experience to process incidental take permit applications for species listed only under the federal ESA."
Private Rights of Action
The private rights of action contemplated in SB 49, if triggered, would essentially create a Private Attorneys General Act (PAGA) for environmental laws similar to PAGA in the labor and employment context. PAGA in the labor and employment context has resulted in various shakedown lawsuits that only increase costs to businesses without providing any corresponding benefit to employees.
The private rights of action contemplated in SB 49 would similarly merely create an additional avenue of costly litigation against businesses that will limit their ability to grow their business and workforce in California, while also adding cases to the overburdened dockets of the judicial system.
Moreover, federal courts have created specialized procedures to deal with the citizen lawsuits relating to federal environmental laws due to the complexities created by such lawsuits. Without having such institutional procedures in place, lawsuits under the contemplated private rights of action in SB 49 would most likely hold businesses hostage for an even greater period of time while the overburdened California courts attempt to deal with the influx of such cases and the unique complexities associated therewith.
Vague language in SB 49 as to when the private rights of action would be triggered also raises questions that would need to be settled by the courts, which will result in many pending cases sitting on the dockets for years without any certainty for businesses while they struggle with increased litigation costs.
Housing Cost Increases
Countless newspaper articles and recent reports have highlighted the dire condition of housing in California. Such articles explain that the cost of imposing prevailing wages on private residential projects may increase labor costs by approximately 30% or more and the cost of housing by an estimated 37% or more.
A Los Angeles ballot initiative mandating payment of prevailing wages in a fashion similar to AB 199 is estimated to increase a project's total cost by 45.8% due to the increase in labor costs.
One estimate predicts that "prevailing wage would add roughly $90,000 to the cost of building a 2,000 square-foot house in San Diego County."
In San Joaquin County, the bill is estimated to increase the cost of a 1,500 square-foot home by $75,000.
The increase in costs will price many Californians out of the housing market. A recent study done for the National Association of Home Builders found that for every $1,000 increase in a California home, 15,000 buyers are priced out of the market.
Thus, as The Sacramento Bee points out, California is essentially exporting its poor to other states and attracting wealthier people into the state.
Housing Crisis
The state is facing a crisis in housing affordability and supply. The two are inextricably linked, as the Legislative Analyst's Office points out in a February 9, 2016 study, "Perspectives on Helping Low-Income Californians Afford Housing."
It is estimated that California has a housing deficit of approximately 1 million units across all income levels. The California Department of Housing and Community Development estimates that the state must build at least 180,000 units per year to keep pace with demand, not accounting for the backlog of 2 million units that has accrued over the last several decades.
The industry is producing approximately half of that and homeownership rates are at abysmal levels—the lowest level since the 1940s—currently ranking 49th nationally.
Bills like AB 199 that impose significant costs on housing construction make a full recovery much more difficult, only exacerbate the housing crisis rather than help ameliorate it, and threaten to stifle construction, thereby having a deleterious effect on the state economy in whole.
Action Needed
The CalChamber is asking members to contact their legislative representatives to urge them to oppose AB 199 and SB 49 as job killer bills.
Easy-to-edit sample letters are available at www.calchambervotes.com.