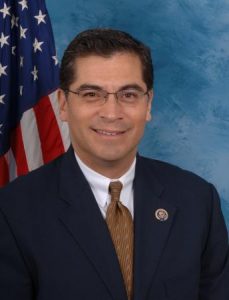 Governor Edmund G. Brown Jr. this week named California Congressman Xavier Becerra (D-Los Angeles) to succeed Attorney General Kamala D. Harris, who was elected to the U.S. Senate last month.
The nomination is subject to confirmation by the California State Assembly and Senate, and will be officially submitted after Attorney General Harris resigns, according to the Governor's office. The new session of Congress begins on January 3, 2017.
Becerra has served in the U.S. House of Representatives since 1992, most recently as the first Latino member of the House Ways and Means Committee, ranking member of its Subcommittee on Social Security, and chairman of the House Democratic Caucus.
Before being elected to Congress, Becerra represented the 59th California Assembly District from 1990 to 1992. He served as a deputy attorney general in the California Department of Justice, Office of the Attorney General from 1987 to 1990. He began his legal career in 1984, advocating for and representing individuals with mental illness.
He earned his J.D. from Stanford Law School in 1984 and B.A. in economics from Stanford University in 1980.