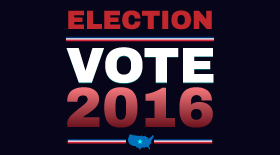 In the days leading up to the June primary, a surge in voter registration led to 72.29% of eligible California citizens being registered to vote.
Ultimately, however, just 47.72% of registered voters cast a ballot in the primary, and a sizable percentage (58.92%) voted by mail, according to the office of the Secretary of State.
Employers interested in encouraging employees to participate in the political process can find sample messages, posters and more at caprosperity.org. The California Prosperity Project is a nonpartisan effort to provide greater education and awareness about candidates and their positions on issues important to California businesses, their employees and their families.
It is part of the Prosperity Project, a joint venture among employers, state organizations, business groups (including the California Chamber of Commerce) and the Business-Industry Political Action Committee (BIPAC) to encourage greater business and employee participation in the political and public policy process.
October 24 is the deadline to register to vote in the November election.
Persons who register to vote in California must be:
• A United States citizen;
• A resident of California;
• 18 years of age or older on Election Day;
• Not currently imprisoned or on parole for the conviction of a felony;
• Not currently found to be mentally incompetent by a court of law.
To register to vote, a prospective voter must complete a brief voter registration application on paper or online. An online link is available in the grassroots action center at calchambervotes.com.
Applications also are available through the website of the Secretary of State, county elections offices, any Department of Motor Vehicles office, and many post offices, public libraries, and government offices. To have a paper application mailed to you, call your county elections office or the Secretary of State toll-free voter hotline at (800) 345-VOTE.
Voter registration cards and voting materials are available in English, Chinese, Hindi, Japanese, Khmer, Korean, Spanish, Tagalog, Thai, and Vietnamese.