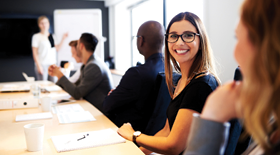 The California Chamber of Commerce and the Linked Learning Alliance have launched a California network of employer associations committed to advancing youth opportunities and reducing youth unemployment.
The lead organizations, Linked Learning Alliance and CalChamber, brought together four local chambers of commerce to form the network: the Los Angeles Area Chamber of Commerce, Oxnard Chamber of Commerce, Fresno Chamber of Commerce and Sacramento Metropolitan Chamber of Commerce.
This network, the first of its kind in California, is supported by a $544,425 grant from the California Workforce Development Board's Workforce Accelerator Fund, the largest grant awarded though this program to date.
Employer-Led
"This network will leverage the power of an employer-led approach to build scalable systems that give students work-based learning experiences that help prepare them for college and careers," said Loren Kaye, president of the CalChamber-affiliated California Foundation for Commerce and Education.
"Our approach is inspired by Talent Pipeline Management, a program developed by the U.S. Chamber of Commerce Foundation to close the skills gap by calling for employers to play an expanded leadership role as 'end customers' of education and workforce partnerships. The strategy for each region will vary based on their unique needs, but each is advancing workforce development and aiming to reduce youth unemployment."
Closing Gap
By 2025, California will need to produce an additional 1 million career-ready college graduates to meet employers' needs, according to a recently published Public Policy Institute of California (PPIC) report, "Closing the Gap: Meeting California's Need for College Graduates."
Today, only 40% of California's 2.2 million young adults hold an associate's degree or higher, and many don't have the skills needed to succeed in college or the workforce.
"Work-based learning animates what students learn in the classroom, gives young adults relevance and inspires them to want to learn," said David Rattray, executive vice president education and workforce development for the Los Angeles Area Chamber.
"By working with professionals, students gain skills needed for 21st century careers. They also start building a professional network and can add their experiences to a resume and college applications. We applaud the CalChamber and all the participating regional chambers that are committed to make work-based learning available to students at the scale needed in California."
Partner Projects
The work the partner regions will be starting includes:
• The Los Angeles Area Chamber plans to advance its business engagement with local Linked Learning academies and pathways, aiming to increase the number of chamber members who offer work-based learning opportunities for Linked Learning students.
• The Oxnard Chamber will develop a program, Direct Path to Success, which connects employers to their future workforce and exposes high school students to careers with local businesses.
• The Fresno Chamber is planning a Future Leaders Employment Expo,which will provide students and disconnected youth with a variety of resources, including informational interviews and seminars on resume building, interview tips and job coaching for youth.
• The Sacramento Metro Chamber will tap some of its existing leadership and professional network programs to create a mentorship program for young professionals and youth in the Sacramento region.
Personal Relevance
"Linked Learning exposes high school students to previously unimagined college and career opportunities by turning their education into a personally relevant, engaging experience," said Christopher Cabaldon, president of the Linked Learning Alliance.
"Research shows that Linked Learning students have higher rates of engagement and higher graduation rates than their peers at traditional high schools. This approach to education is helping to create a disciplined, prepared, and productive future workforce for California, ready to succeed in college, career, and life.
"However, the approach can only be successful if we have strong business partners involved, who make sure that students are learning about careers and getting hands-on experience that is aligned with industry standards and expectations. The Linked Learning Alliance is proud to partner with chambers, employer associations, and leading businesses to expand opportunities for students to learn from and work with leading employers in key industry sectors."
Sharing
The CalChamber will partner with the Linked Learning Alliance to convene the network of chambers to share best practices, testimony from experts and field leaders, and disseminate resources and supportive materials through webinars and group communications.