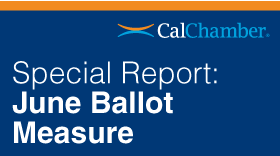 Following is a brief summary of the measure that will appear on the June ballot. The California Chamber of Commerce has no position on this proposal.
For more information, visit the website of the secretary of state at sos.ca.gov.
Proposition 50
Suspension of Legislators Constitutional Amendment.
Amends Section 5 of Article IV of the California Constitution to require that to suspend a member of either house of the Legislature, a motion or resolution to that effect shall be adopted by a vote of two-thirds of the membership of the house, as specified. This measure would prohibit a suspended member from exercising any of the rights, privileges, duties, or powers of his or her office, or from utilizing any resources of the Legislature, while the suspension is in effect. Salary and benefits of the member would be forfeited for all or part of the period of the suspension by express provision of the motion or resolution.
Placed on Ballot by: Legislature.
Ballot Arguments For
Proposition 50 would amend the state Constitution to give the California Legislature clear authority to suspend members of the Senate or the Assembly without pay. The measure is a simple and straightforward way for lawmakers to hold their own colleagues accountable for breaching the public's trust.
More Information: yesprop50.com
Ballot Arguments Against
Proposition 50 gives legislative leaders the option NOT TO EXPEL fellow Assembly members and Senators who have been indicted or convicted of felony charges. The California Constitution already allows Assembly members and Senators who have been indicted or convicted of felony charges to be removed from office by expulsion. Proposition 50 allows lawmakers who have been indicted or convicted to be suspended WITH or without pay and it robs constituents of representation since a suspended legislator would still "occupy" his or her office and no election can take place to replace that bad actor.
More Information: stopprop50.com