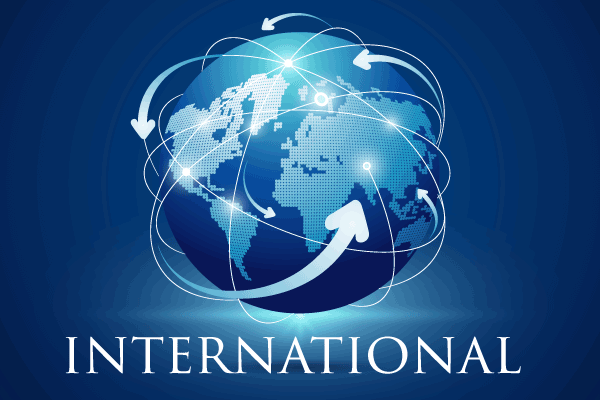 Mexico's energy reform and investment opportunities were the topic of discussion this week at a California Chamber of Commerce International Luncheon Forum.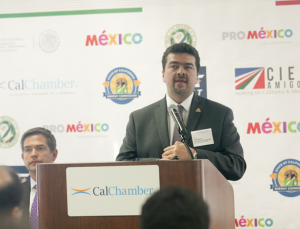 Nearly 100 guests attended the May 3 luncheon, part of the VII California-Mexico Advocacy Day organized by the office of Ambassador Alejandra Garcia Williams, Mexico's Consul General in Sacramento.
The mission of the advocacy day is to strengthen and expand the relationship between Mexico and the State of California in pursuit and integration of programs in energy efficiency, low-carbon energy, and use of advanced technology to produce renewable energy.
Mexico continues to be California's No. 1 export market, purchasing 16.2% of all California exports. California exports to Mexico amounted to $26.8 billion in 2015, a 5.5% increase from 2014.
California-Mexico Advocacy Day
The objectives of the VII California-Mexico Advocacy Day are:
• Promote Mexico's investment opportunities on hydrocarbons and electricity to the California market, to implement a strong partnership that will result in the economic development of both sides.
• Promote the exchange of technology and leading practices to strengthen the infrastructure of the energy sector in Mexico and cross-border electricity interconnections.
• Follow up on the agreements adopted during the September 2015 California energy sector trade and investment mission to Mexico.
Energy Partnerships
Mtro. Leonardo Beltrán Rodríguez, undersecretary of planning and energy transition for the Mexico Ministry of Energy, explained that the driver for having energy reform was that Mexico is going to become a net-energy importer within the next three to five years.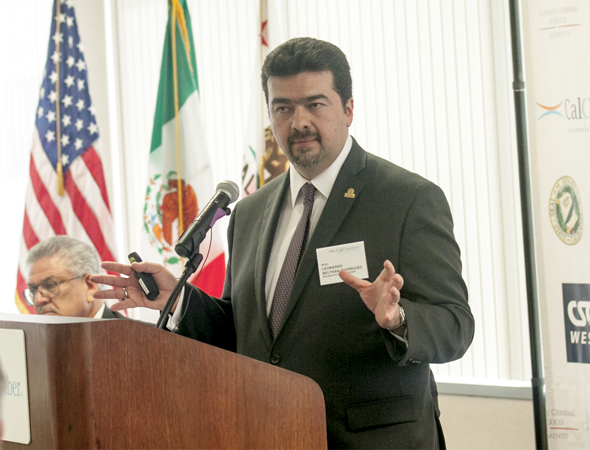 Right now Mexico is setting up and executing the reforms, which will put Mexico at the same level of competition as any country in Europe, Asia or any U.S. state, Beltrán explained.
When developing the framework for the energy reforms, Beltrán said, Mexico leaders asked, "How do we push ourselves to be competitive and being able to partner with, for instance, the great state of California."
In 2014, Governor Edmund G. Brown Jr. led a historic trade and investment mission to Mexico, organized by the CalChamber.
Governor Brown traveled to Mexico City, the political capital and financial center of Mexico, to build on the momentum initiated during his trade mission to China in 2013—expanding California's focus to its southern neighbor and largest export market.
During the 2014 trade mission, Governor Brown signed a comprehensive climate change pact with the Mexican government, as well as an agreement with Mexico Secretary of Energy Pedro Joaquín Coldwell to foster cross-border renewable energy investments.
The agreement will ensure that Mexico and California will work closely together to promote energy efficiency and renewable energy.
Among other things, the agreement calls on California and Mexico to work together on low carbon energy, clean technologies, biofuels and energy efficiency to enhance reliability and affordability of energy supplies.
Mexico Energy Reform
The main mandates of Mexico's energy reform/energy transition act are:
• Transition toward the sustainable use of energy;
• Gradual increase of clean energy in the national energy grid;
• Reduce the carbon footprint of the energy section; and
• Align the mandate on climate change and the electrical industry.
Beltrán remarked that California is the eighth largest economy in the world and Mexico is the 13th largest, therefore it would make sense for both to partner in this endeavor.
"If we partner, then both of us, will become the fourth, the third, largest economy in the world," he said.
In closing, Beltrán said he looked forward to more collaboration with California as Mexico completes its energy transition.
"We have the political commitment, the legal framework—let's do it!"
Integration of Energy Markets
Ing. Marcos Valenzuela Ortiz, director of market administration for the National Center of Energy Control / Centro Nacional de Control de Energía (CENACE), explained that Mexico's goal is to be more integrated.
CENACE is responsible for the generation, marketing and transmission of energy in Mexico.
Through the Energy Reform Act, the electrical industry is rapidly transforming Mexico, Valenzuela explained.
The reform presented big logistical challenges for CENACE.
For example, Valenzuela said, developing a long-term energy plan usually took an entire year; the reform gave them four months to develop one. Planning their auction, a process that can take three years, was done in 18 months.
CENACE recently approved 11 new renewable generation projects for a total of 2,100 megawatts of renewable energy.
According to the U.S. Energy Information Administration, external electricity trade is carried out through nine interconnections between the United States and Mexico. Valenzuela said Mexico is about to add a new interconnection with Arizona.
"From a planning perspective, we'd like to increase the integration between both countries," said Valenzuela.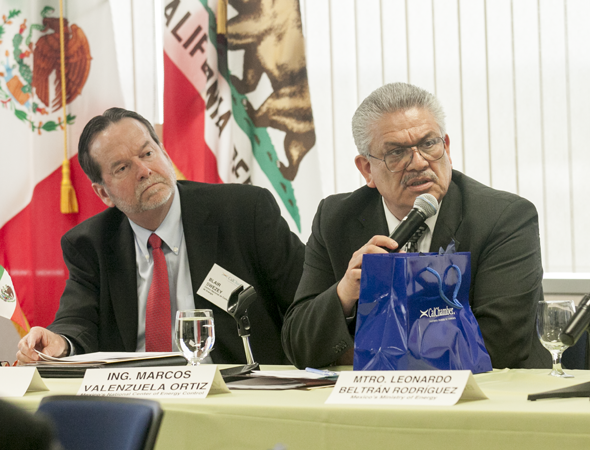 Solar Investment
Blair Swezey, senior director of U.S. market development and state policy for SunPower, discussed the recent energy market reforms Mexico has undertaken to introduce both competition and customer choice into the electrical industry.
As a result, SunPower has grown in Mexico. In December, the company announced a partnership with nine Mexican airports to deliver 36 megawatts of solar to power airport operations. Recently SunPower was awarded 500 megawatts of power projects in Mexico's first electricity auction.
"This was a remarkable achievement that demonstrates the cost competitiveness of solar in Mexico," Swezey said.
Select Committee Hearing
The Senate Select Committee on California-Mexico Cooperation, chaired by Senator Ben Hueso (D-San Diego), also held an informational hearing on May 3 to examine existing collaboration and potential cross-border opportunities created by Mexico's energy reform and California's energy agreement with Mexico.
Trading Partner Portal: Mexico
For more information on California-Mexico trade and the slide presentations of the speakers, visit CalChamber's Mexico Trading Partner Portal Page at calchamber.com/mexico.