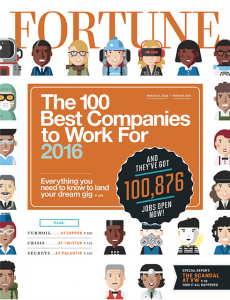 Twenty-two California Chamber of Commerce member companies have been named by Fortune magazine as among the "100 Best Companies to Work For."
Each year, the magazine partners with Great Place to Work to conduct the most extensive employee survey in corporate America.
Two-thirds of a company's survey score is based on the results of the Trust Index Employee Survey, which is sent to a random sample of employees from each company. The other third of the survey score is based on responses to the Culture Audit, which includes detailed questions about pay and benefit programs.
Best Companies to Work For
Following are the CalChamber member companies that made it onto Fortune's list:
• Google, ranked No. 1: This year, Google ranked at No. 1—a spot the company has held seven times in the 10 years it has made it to Fortune's list. Its phenomenal employee perks include: providing three prepared organic meals a day, on-site oil changes and free personal-fitness classes.
• Kimley-Horn and Associates, ranked No. 7: Kimley-Horn and Associates devotes a large portion of its earnings to retirement contributions for its staff. Employees benefit through bonuses and retirement contributions, which include a two-to-one 401(k) match up to 4% of salary and a profit-sharing contribution. In 2014, these amounted to an average of more than $20,000 per employee.
• NuStar Energy, ranked No. 19: NuStar employees are appreciated for their efforts and achievements with gifts, parties and recognition events, and are given perks like 100% health care coverage, a rich 401(k) and defined benefit pension plan, company-wide bonuses, and 60 hours of paid time off to volunteer. Chairman Bill Greehey calls NuStar's no-layoff policy a "sacred trust," and says that as long as employees do a good job, they will have a good job.
• Kimpton Hotels & Restaurants, ranked No. 20: Kimpton Hotels and Restaurants is a chain of boutique hotels and restaurants that offers a buffet of benefits that includes six weeks of parental leave, hearing and vision care, backup child care and elder care, and women's preventive health. Senior managers are eligible for month-long sabbaticals after seven years—but only if they promise to unplug from their work emails and phone calls.
• Cooley, ranked No. 28: This Silicon Valley-based law firm advises top tech companies—like Facebook, Yelp! and Google. To decompress, the firm holds Nintendo Wii dance-offs, outdoor movie nights, and family Halloween spooktaculars.
• USAA, ranked No. 36: This financial institution rewards employees with points for engaging in healthy behaviors, allowing them to reduce their medical premiums by $130–$400 (depending on their coverage level). Employees have opportunities to work flexible hours or work remotely from home as needed to achieve work-life balance. Employees also have access to temporary care when they have an ill child or a parent who needs care.
• Perkins Coie, ranked No. 37: Perkins Coie is one of the country's highest-grossing law firms. The firm encourages employees to take time off to recharge, offering two-month paid sabbatical leave for all employees. The firm organizes networking lunches and mentoring for women, minority, and LGBT lawyers, which has boosted its number of attorneys from those groups by 47.6% in five years.
• Alston & Bird, ranked No. 41: This 120-year-old Atlanta-based law firm offers an array of perks for new mothers: up to 18 weeks of paid leave for attorneys, 12 weeks for staff and up to $10,000 for adoption or surrogate-related expenses (along with up to 90 days off). Alston & Bird also has on-site child care (with discounted tuition for lower-paid employees) and parent support groups.
• KPMG, ranked No. 43: From in-person and virtual training events, electronic learning resources specific to client issues / business topics, and training that helps its people develop from a personal as well as professional perspective, KPMG's investment in continuous learning enables it to constantly provide people with new opportunities to deepen their technical proficiency, broaden their skill set and experiences, and achieve the career to which they aspire.
• Hyatt Hotels, ranked No. 47: This global hotel chain has spent an average of $50,000 updating employee cafeterias to make them feel more like restaurants. Every hotel now has a lounge where colleagues have access to computers, TVs and video games. From the CEO on down, everyone at Hyatt is on a first-name basis, and hotels regularly host "Night Owl Breakfasts" when managers serve meals to night-shift workers, share information and gather feedback.
• PricewaterhouseCoopers, ranked No. 53: To help new moms and dads cope with their transition, PricewaterhouseCoopers has just started offering them 30 days of paid parental leave. Interns who have secured full-time offers from PwC are welcomed to the company at a launch event at Disney World theme parks, where the new employees compete in fun challenges like a puzzle game called Pirate Pursuit.
• PCL Construction, ranked No. 60: This commercial construction firm is 100% employee-owned, and staff members (and their loved ones) appreciate the culture of safety in this workplace. More than 700 building projects can be taking place at once, ranging from office towers and condominiums to bridges, airports and petrochemical plants. Yet, PCL maintains a safety record five times better than the national average of its industry. Outstanding statistics are celebrated during safety week with truck-shaped cupcakes, trivia contests and safety-related prizes.
• Arthrex, ranked No. 62: Everyone at Arthrex enjoys a daily free catered lunch and on-site medical care as well as a year-end profit sharing bonus. Employees and their families are invited to family events throughout the year, including beach parties, fall festivals, summer bowling nights, and Arthrex-only events at local attractions.
• IKEA Holding U.S., ranked No. 63: IKEA has an egalitarian culture that provides all part-time workers who work more than 20 hours per week with full benefits, including gender reassignment, infertility treatments, and long-term disability. If an hourly co-worker has a disagreement with a corrective action or termination, the issue can be reviewed by a panel of peers.
• TEKsystems, ranked No. 74: Executives at this IT staffing and services company go the extra mile to keep folks in the loop. During the annual executive road show, the leadership team visits every one of their more than 100 local offices over the course of a month. One employee remarked: "We are a $4 billion organization. But employees from support staff to recruiters to account managers have exposure to high-level executives, regional vice presidents and even the president of the company."
• Whole Foods Market, ranked No. 75: Whole Foods Market strives for an egalitarian culture and caps its executive salaries at no more than 19 times that of the average worker. The company's unique gain-sharing plan rewards teams for coming under budget. The team's monthly surplus is distributed among team members—based on number of hours worked—and has averaged about 6% of workers' total wages.
• Cisco Systems, ranked No. 82: Cisco has achieved strong recognition in Silicon Valley as a leader in work-life programs. More than 3,000 employees now do their jobs from home. Cisco has a state-of-the-art child care center with 600 kids.
• Marriott International, ranked No. 83: Much of employees' admiration of Marriott comes down to relationships: Among those surveyed, 93% say they work among friendly colleagues and 94% say their workplace is welcoming of newcomers. Marriott associates enjoy discounted associate room rates, and associates who exceed 25 years of service are eligible for free weekend stays at participating Marriott hotels for the rest of their lives.
• Accenture, ranked No. 84: This global professional services company has committed to hire 5,000 U.S. veterans and military spouses by 2020. The company is waiving its standard college-degree requirement for some positions and has set up special training courses for military candidates. Once in the door, Accenture employees can receive educational scholarships and all employees have access to a global learning portal with more than 50,000 classes.
• CarMax, ranked 85: This retailer of used vehicles provides associates and immediate family members discounts on CarMax vehicles, accessories, extended service plans and vehicle service. The company rewards stores with strong performance with a steak cookout conducted by its senior executive team, which includes CEO Tom Folliard and other leaders. The executive team visits the store, fires up the grill, and serves all the store's associates to thank them for their hard work and dedication in providing exceptional customer service.
• Deloitte, ranked No. 90: Deloitte's big draw is education: 4 million learning hours were delivered to employees last year with special development programs in place to advance those traditionally considered "minorities." All employees are supported in pursuing higher education: $10K in tuition reimbursement and $25K to help doctoral candidates cover expenses to write their dissertations. Select MBA candidates who return to Deloitte after business school can qualify for a reimbursement on their graduate school tuition.
• Nordstrom, ranked No. 92: This fashion specialty retailer provides an Employee Stock Purchase plan where eligible employees have an opportunity to purchase Nordstrom stock at a 10% discount off the closing market price. Employees receive store discounts, matching 401(k) contributions, and can enroll in the Beginning Right Maternity Program, where he or she can earn a $400 Nordstrom gift card to help stock up on baby basics.
Complete List
For the complete list of the 100 Best Companies to Work For, visit fortune.com/bestcompanies.
* This article was updated on April 25 to include CalChamber member PCL Construction, which made it to No. 60 on Fortune's "Best Companies to Work For" list.