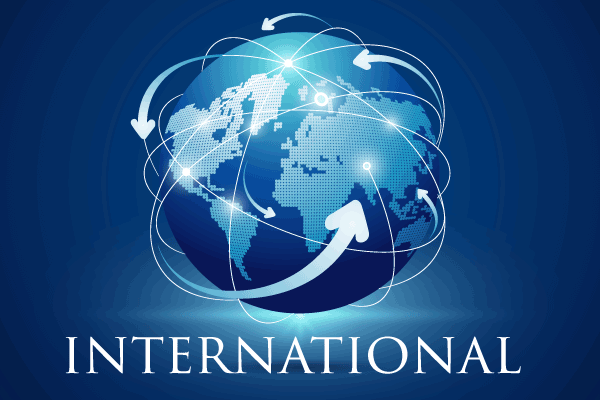 Economic and trade ties are an important facet of overall U.S./California-Irish relations, explained the Honorable Alan Kelly T.D., Irish minister for the environment, community and local government, during an international luncheon this week at the California Chamber of Commerce.
In addition to celebrating St. Patrick's Day one day early, the luncheon with more than 100 attendees also honored March as Irish-American Heritage Month, which was recently declared by U.S. President Barack Obama.
Luncheon guests also heard from Assemblymember William P. Brough (R-Dana Point), who chairs the California Legislative Irish Caucus, which now boasts the membership of 25% of the Legislature. The caucus will take a trip to Ireland in July. Brough promised that upon their return, participants will be "fully committed to new, stronger and even more meaningful ties."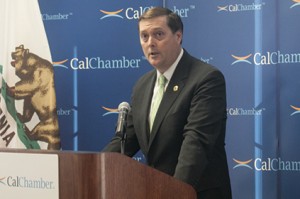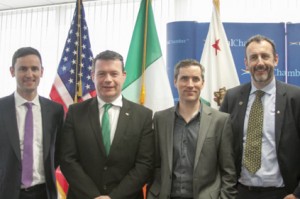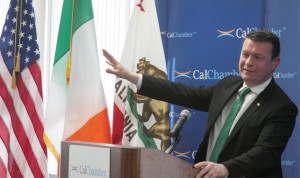 Trade Overview
The links between Ireland and California "have never been stronger," Minister Kelly told the luncheon guests. "Ties of blood have been reinforced with ties of commerce."
Ireland is a trade-dependent economy and one of the first 12 European Union nations to begin circulating the euro in 2002. The nation has become an important European hub for key sectors such as biotech, technology, med-tech, and financial services. Ireland has a gross domestic product (GDP) of $250.8 billion and a population of 4.6 million.
Irish-California Trade Relations
California companies are major investors in the Irish economy. There are more than 50 California-based companies with Irish founders, and more than 36,000 Irish nationals employed by California-based corporations.
Minister Kelly shared that in the last 18 months, a number of companies headquartered in California have all announced expansions in Ireland.
Large numbers of Irish companies are in California, creating jobs. Minister Kelly called this situation a "win-win" for everyone.
While U.S. companies created 110,000 jobs in the Irish economy, Irish companies support 82,000 jobs in the U.S.
As an example of this cross link, Minister Kelly cited the recent expansion of Voxpro into Folsom, California.
Voxpro is an award-winning provider of multilingual customer experience and technical support solutions for global brands. It is headquartered in Cork, with offices in Dublin and San Francisco. On March 15, Voxpro launched a new operational Centre of Excellence in Folsom where it will deliver customer experience to the U.S. market in partnership with iconic tech companies.
"Voxpro is an incredible Irish company that is going to grow exceptionally, both in Ireland and in California," Minister Kelly said.
Pointing to Voxpro's growth, Minister Kelly promised that there are more Irish companies doing business in California and assured the attendees that there will be more involvement in California's economy.
According to the U.S. Department of Commerce, in 2015, California exported more than $1 billion to Ireland, providing 11% of total U.S. exports to Ireland, and making California the top exporting state to Ireland. Top exported products in 2015 included chemicals, computers, manufactured commodities, and nonelectrical machinery.
More than 400 Irish technology or software companies export to the U.S. or are looking to export, Minister Kelly said.
The Silicon Valley and San Francisco Bay Area offer these companies some of the most attractive bases in which to do business.
"They are home to the largest and most important concentration of innovation centers, incubator and development spaces, corporate development centers, venture capital funding companies, high tech multination firms in the U.S.," Minister Kelly remarked.
Turning to tourism, Minister Kelly declared that California and Ireland have never been closer thanks to three new direct flights. As recently as March 2013, there were no direct flights.
U.S.-Irish Trade Relations
Two-way trade between the United States and Ireland was approximately $48.3 billion in 2015.
The Irish economy is growing at a pace that has never, ever been seen before, Minister Kelly said. In fact, it is one of the fastest-growing economies in the world and the fastest-growing economy in Europe.
Exports from Ireland continue to rise. In 2015, the United States exported more than $8.9 billion in goods to Ireland, a 15% increase since 2014. Top exported products included chemicals, transportation equipment, computers, and manufactured commodities. The United States imported $39.4 billion from Ireland, with chemicals making up 72.8% of the total.
"All of the key indicators suggest continued and strong economic growth, despite a challenging global environment," Minister Kelly said.
Foreign Direct Investment
Foreign Direct Investment (FDI) globally continues to be a key contributor to Ireland's economic performance and growth.
"More than 3,000 foreign companies have put down roots in Ireland," Minister Kelly explained. "These include many of the world's most successful businesses, which have chosen Ireland as their strategic base in Europe."
In 2014, U.S. direct investment into Ireland reached $310.6 billion, while Ireland invested $16.2 billion into the United States. The United States is the largest export destination for Irish goods, and provides the second largest source of Irish imports, after the United Kingdom.
100 Years of Independence
Minister Kelly explained that 2016 is a very special year for Ireland, probably the most significant year since 1916, when Ireland's independence was proclaimed.
Over the months ahead, the country will look back over the last 100 years and re-imagine the future, he said.
America is the only foreign country expressly referenced in the proclamation of the Irish Republic, which itself has echoes of the U.S. Declaration of Independence, Minister Kelly explained.
Minister Kelly shared a little known fact: that five of the seven signatories of the proclamation spent periods of time prior to that in the United States.
"Five of the seven," Minister Kelly repeated. "Obviously their time in the U.S. had a huge impact on their thinking."
In closing, Minster Kelly said that he is confident, "Thanks to our strong presence and to the way in which we are so united, that we will be united in the future in a shared, peaceful and prosperous future. We all will ensure collectively, given how close our ties are, that this will transpire."
For further information, see the latest CalChamber portal, www.calchamber.com/Ireland.