Dr. Timothy P. White, chancellor of The California State University (CSU), and Dr. Brice Harris, chancellor of the California Community Colleges, present an overview to fellow members of the CalChamber Board of Directors on December 4 of their respective systems' efforts to ensure more students graduate with the degrees and skills needed for a thriving California economy. The Public Policy Institute of California has projected a shortfall of 1.1 million graduates with bachelor's degrees by 2030.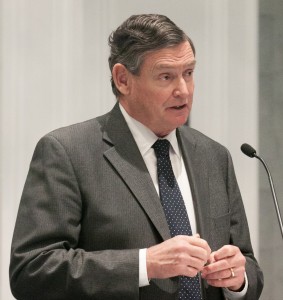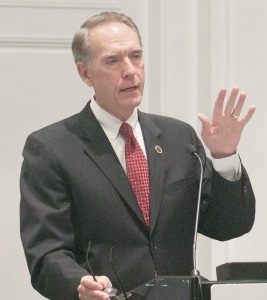 White said CSU's Graduation Initiative 2025 has a goal of awarding nearly 1 million bachelor's degrees over the next 10 years by making sure students have a continuous pipeline to a degree, working with stakeholders in the community to create and expand College Promise programs, and clearing obstacles (such as shortages in courses, advisers and student services) to student and alumni success.
Harris cited the success of the three-year-old program to teach community college students the basic skills needed to succeed in college and a concerted effort by faculty members in support of a robust transfer program that enables community college students to enter four-year colleges and universities with junior status. Among several new online tools the community college system has available to help students and parents: a scorecard that provides information on how all campuses are performing in key areas; a salary surfer that allows comparisons of earnings before and after receiving degrees.
Both White and Harris emphasized the importance of stable, long-term funding in planning programs that can prepare students for today's workforce. Harris noted that career technical education classes tend to be more costly due to equipment requirements.