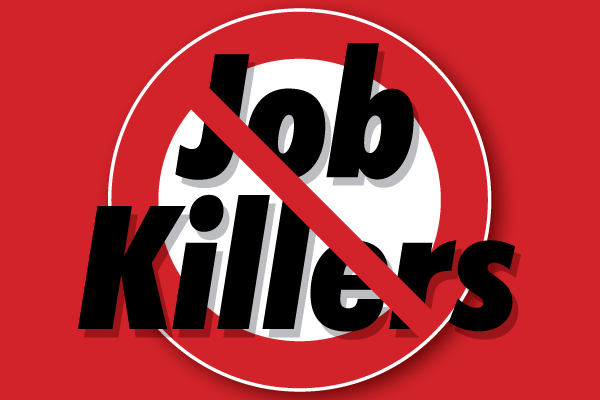 A California Chamber of Commerce-opposed job killer bill that denies employers the basic choice of whom to hire passed the Senate Labor and Industrial Relations Committee this week.
AB 359 (Gonzalez; D-San Diego) inappropriately alters the employment relationship and increases frivolous litigation by allowing a private right of action and by requiring any successor grocery employer to retain employees of the former grocery employer for 90 days and continue to offer continued employment unless the employees' performance during the 90-day period was unsatisfactory.
The bill passed the full Assembly on May 26, 46-27.
The CalChamber considers AB 359 a job killer because it:
• Subjects employers to multiple threats of litigation.
• Denies employers the basic choice of whom to hire in their workforce.
• Eliminates an employer's opportunity to investigate applicants before hiring.
• Undermines the at-will presumption in order to protect the incumbent union.
• Forces an employer to adhere to terms of a contract to which it is not a party.
• Does not provide stability or reduce unemployment in the grocery industry.
• Discourages investment in grocery establishments and jeopardizes jobs.
• Offers no evidence that it preserves health and safety standards.
Key Vote
Senate Labor and Industrial Relations passed AB 359, 4-1, on June 24.
Ayes: Mendoza (D-Artesia), Jackson (D-Santa Barbara), Leno (D-San Francisco), Mitchell (D-Los Angeles).
No: Jeff Stone (R-Temecula).