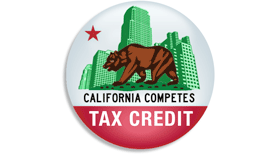 A number of California Chamber of Commerce members are among businesses that will be adding jobs to their payrolls with the help of the California Competes Tax Credit administered by the Governor's Office of Business and Economic Development (GO-Biz).
Funding for the California Competes Tax Credit Program was restored for tax years 2014 through 2024 as a result of a CalChamber-supported job creator bill signed in September 2014.
The following CalChamber members are projecting the creation of more than 4,500 jobs statewide, investing close to $1.2 billion and receiving about $26 million in tax credits. About $98 million in tax credits has been approved this year by the California Competes Tax Credit Committee.
• Adams Group, Inc. of Arbuckle and Woodland, agricultural processing;
• AFC Trident, Inc. of Ontario, tablet and phone case manufacturing;
• BYD Motors, Inc. of Lancaster and Los Angeles, electric bus manufacturing;
• C.B. Nichols Egg Ranch of Colton and Homeland, organic egg processing;
• Cascade Orthopedic Supply Inc. of Chico, medical equipment distribution;
• Composites Horizons, LLC of Covina, aerospace product manufacturing;
• Development Group, Inc. of Redding, computer systems management and design services;
• FLIR Commercial Systems, Inc. of Goleta, thermal imaging camera manufacturing;
• Fox Factory, Inc. of El Cajon, shock absorber and racing suspension product manufacturing;
• Fruit Growers Supply Company of Yreka and Ontario, sawmills and agricultural shipping product manufacturing;
• H.M. Electronics, Inc. of Poway, communications equipment manufacturing;
• Hyundai Capital America of Irvine and Newport Beach, automobile consumer financial services;
• iBoss, Inc. of San Diego, information technology network security;
• Johnson Matthey, Inc. of San Jose and San Diego, surgical appliance and supplies manufacturing;
• Lock-N-Stitch Inc. of Turlock, bolt, nut, screw, rivet and washer manufacturing;
• Lynda.com, Inc., an online educational services company with locations in Carpinteria, Calabasas and San Francisco;
• Nor-Cal Beverage Company, Inc. of Anaheim, beverage manufacturing and packaging;
• Northrop Grumman Systems Corporation, an aircraft manufacturing firm with locations in Redondo Beach, El Segundo, Palmdale, San Diego, Sunnyvale and Woodland;
• Orora North America of Buena Park, corrugated and solid fiber box manufacturing;
• Paramount Farming Company LLC of Shafter, bee hive cultivation;
• Perfect Bar & Company of San Diego, nutrition/health food manufacturing;
• Provino Inc. of Santa Rosa, wine and beverage wholesaler;
• Red Bull North America, Inc. of Santa Monica, beverage distribution;
• Rumiano Cheese Co. of Crescent City and Willows, dairy product manufacturing;
• Sentry Control Systems, LLC of Van Nuys, technology-based parking solutions;
• Shepard Bros., Inc. of Stockton and La Habra, soap and other detergent manufacturing;
• Truckee-Tahoe Lumber Company of Truckee, lumber yard;
• United States Gypsum Company of Plaster City, gypsum wallboard manufacturing.
California Competes Program
The GO-Biz website describes the California Competes Tax Credit as an income tax credit available to businesses that want to come to California or stay and grow in California.
GO-Biz negotiates the tax credit agreements, which are approved by a statutorily created California Competes Tax Credit Committee, consisting of the State Treasurer, the Director of the Department of Finance, the Director of GO-Biz, one appointee each by the Assembly Speaker and Senate Rules Committee.
Companies interested in applying for California Competes tax credits can apply during the next application round, which will be announced in the middle of this summer. Applicants may complete a free, user-friendly application available at www.calcompetes.ca.gov.