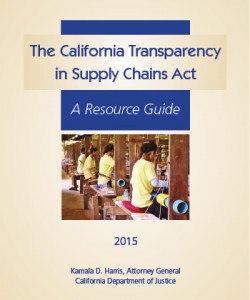 Attorney General Kamala D. Harris has issued a resource guide to help companies doing business in California comply with state law requiring them to disclose their efforts to prevent and root out human trafficking and slavery in their product supply chains.
The disclosure is required by the California Transparency in Supply Chains Act (D-Steinberg; Statutes of 2010).
The California Department of Justice sent informational letters earlier this month to companies that may be subject to the disclosure requirements.
In the guide, The California Transparency in Supply Chains Act: A Resource Guide, the Attorney General provides businesses with recommendations to develop and refine disclosures to consumers.
"Human trafficking profits from exploiting the most vulnerable in our society and often extends to factories, farms and construction sites," Attorney General Harris said. "This guide will help companies disclose efforts to eradicate human trafficking from their supply chains and empower consumers to make informed purchasing decisions."
Who Must Comply
The act requires large retailers and manufacturers that do business in California to disclose on their websites their efforts to eradicate slavery and human trafficking from their direct supply chain for tangible goods offered for sale.
The act applies to companies doing business in California that have annual worldwide gross receipts totaling more than $100 million and which identify themselves on their California tax return as a retail seller or manufacturer.
Model Disclosures
In the Resource Guide, the attorney general explains each of the act's requirements, and provides model disclosures inspired by actual company website disclosures.
A news release from the Attorney General's Office notes that the model disclosures "aim to help businesses develop their own effective disclosures—ones that not only comply with the act, but also more fully educate the public about the integrity of their supply chains."
Disclosure Categories
The act has five required disclosure categories. The retail seller or manufacturer must disclose to what extent, if any, it:
• Verifies product supply chains to evaluate and address risks of human trafficking and slavery.
• Audits suppliers to evaluate their compliance with company standards for trafficking and slavery in supply chains.
• Requires direct suppliers to certify that materials incorporated into the product comply with the laws regarding slavery and human trafficking of the country or countries in which the supplier is doing business.
• Maintains internal accountability standards and procedures for employees or contractors failing to meet company standards regarding slavery and trafficking.
• Trains company employees and managers who have direct responsibility for supply chain management on human trafficking and slavery, particularly mitigating risks within the supply chains of products.
The Attorney General's release notes that the act does not impose any obligation on businesses to implement new measures. All disclosures must be made available on the company's website and be accessible by a conspicuous link on the homepage.
If a company subject to the law does not have a website, it must provide written disclosures within 30 days of receiving a request for the information.
Reports
More information is available in reports from the Office of the Attorney General, www.oag.ca.gov:
• The State of Human Trafficking in California, a 2012 report in which the Attorney General outlined the growing prevalence of human trafficking and emphasized that the crime is routinely "hidden in plain sight."
• Gangs Beyond Borders: California and the Fight Against Transnational Organized Crime.