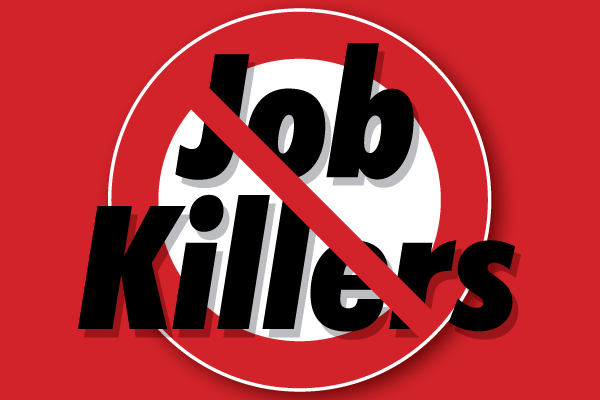 A California Chamber of Commerce-opposed "job killer" health care rate regulation bill is scheduled to be considered April 22 by the Senate Health Committee.
SB 546 (Leno; D-San Francisco) threatens employers with higher premiums and interferes with their ability to provide health care benefits for their employees by giving the Department of Managed Health Care and the Department of Insurance authority to modify or deny rate changes in the large group market, and imposing unnecessary and burdensome new reporting requirements on health plans and insurers that will increase premiums.
Uncertainty for Employers
SB 546 requires regulators to approve proposed rate changes in the large group market even though voters rejected a similar proposal just last fall when they voted down Proposition 45. This provision of the bill creates uncertainty for large employers with adequate bargaining strength, and interferes with their ability to negotiate health benefits on behalf of, and in some cases with, their employees.
Although the CalChamber shares the author's concern about rising health care costs, rate regulation is not the solution to controlling these costs or ensuring the affordability of health care for Californians.
According to a 2012 report by the Henry J. Kaiser Family Foundation, "rate review itself cannot alter the factors driving increases in healthcare costs [growing pharmaceutical expenses, rates charged by providers and hospitals, increasing healthcare utilization, and expensive new medical technologies]." Instead, this expansion of California's existing rate review program imposes costly new administrative burdens on health care plans and insurers that are apt to result in higher premiums for purchasers while ignoring the real cost drivers in the system.
Furthermore, there is nothing in SB 546 that limits the grant of rate approval authority to premium rates, meaning a regulator could unilaterally decide to adjust co-payments, deductibles or other cost-sharing rates established by an employer, resulting in potentially significant unanticipated costs for that employer during the year.
The bill also creates an unreasonable risk of delay for employers seeking to renew their health care contracts because it sets no time limit for regulators to act on a proposed rate change.
Reduces Quality of Benefits
Rate approval can also have a negative impact on the quality of care employees receive. A 2004 study funded by the California Healthcare Foundation to determine the likely effects of premium regulation in the California health insurance market found that increases in health insurance premiums were generally not caused by higher profits for insurers. Because of this, researchers concluded that if regulators were to freeze rates even as health care costs continue to rise, rate regulation could force health plans and insurers to reduce payments to providers, shrink their provider networks or cut benefits for enrollees to maintain profitability, and ultimately could drive some insurers from the market and limit consumer choice.
Action Needed
SB 546 will be considered by Senate Health on April 22. Contact committee members and your Senate representatives and urge them to oppose SB 546.
Let them know the expanded rate review and regulation requirements proposed by SB 546 are not apt to provide much benefit for large employers or their employees, and could reduce the quality of health care benefits, increase their cost, and even drive some insurers from the market.
An easy-to-edit sample letter is available in the Action Center at www.calchambervotes.com.