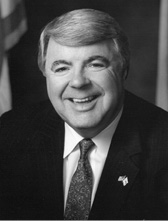 Former Senate Republican Leader William P. Campbell, a former president of the California Manufacturers and Technology Association, passed away last weekend at his home in Orem, Utah. He was 79.
"Bill was a life enhancer and a joy to be around," said former California Chamber of Commerce President Kirk West in announcing Campbell's death on Facebook. "He was a dear friend for many years. I will greatly miss him…everyone one who knew Bill will miss him."
Campbell was first elected to the Assembly in 1966 from Hacienda Heights in Los Angeles County. After four terms in the Assembly, split by an unsuccessful bid for a seat on the Los Angeles County Board of Supervisors in 1972, he moved on to the Senate in 1976, serving as Republican leader for four years before retiring in 1990 to head the manufacturers association for eight years.
In 2003, he was named to lead the blue-ribbon commission that examined the causes of the Southern California wildfires that year and recommended ways to improve the state's response to future fires.
The former senator's likeability and ability to find common ground on contentious issues are cited frequently in comments by those who knew him.
"Campbell's affability and quipping mask a skilled and savvy politician," wrote now-State Librarian Greg Lucas in a 2008 blog post that also recounted other tales from the senator's career.
"His accomplishment was getting people to work together," former Senate Democratic leader David A. Roberti told the Los Angeles Times. "He had a great personality even when he was being partisan. You had to laugh. He did it in a friendly way."