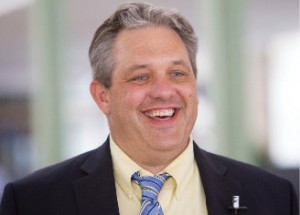 Miller, a recipient of the 2014 California Chamber of Commerce Small Business Advocate of the Year Award, said he is consistently amazed at the difference small business owners can make simply by attending chamber meetings.
"In our community [Fresno], it certainly works that way, but even at a state or federal level, having a small business owner show up at the capitol to talk to electeds face-to-face seems to make a difference because it puts a face on the issues that the legislators deal with, as opposed to emails," he said.
Advocacy Makes a Difference
As owner of Miller-Clark Landscaping and Gazebo Gardens Nursery, Miller fully understands the challenges facing small business owners working in California.
"The state seems to be hell-bent on making it more difficult for us to do every simple task," Miller said. "It's a real disincentive sometimes to be here, or to hire people, or to do any of the simple things that we might want to do."
He sees first-hand how positive the benefits of advocacy can be toward his enterprises and the word of mouth that comes with it.
"[Advocacy] has done nothing but good for my business, both in terms of understanding issues before they happen to us, but even as simple as networking," Miller said.
Volunteering with a Purpose
In addition to serving with the Fresno Chamber the past decade, Miller also has been active in the chamber's various programs. He was the founding director of the Junior Board, a nine-month program which promotes civic activity to high school students, and a founder of the Small Business University program, which offers business and advocacy seminars for small businesses.
Miller also proposed and created a prime-time televised special, "Public Safety Forum," that featured the Fresno mayor, supervisors, police chief and sheriff on the impact of crime on business and the community.
This volunteering has had Miller representing small business interests before the California Legislature, the Fresno City Council, and the Fresno County Board of Supervisors.
"Scott Miller has served his community and this chamber for many years in injecting and helping formulate supportive governmental policies that benefit businesses and the free enterprise system," said Fresno Chamber President and CEO Al Smith in nominating Miller for the Small Business Advocate Award.
Chamber, Business Responsibility
Miller currently serves as a board member for the San Joaquin Political Academy, an arm of the Fresno Chamber. He was a member of the chamber's governmental affairs council, serves on the chamber's executive committee and chairs the political action committee.
With all these endeavors, Miller stresses that a chamber's responsibility to the collective businesses that comprise it is to be supportive and forward thinking.
"Our chamber's responsibility to our business community is to support it," he said. "To make our business owners aware of events that are coming down the pike from a legislative point of view that are going to either be good for us or potentially cause us some damage. And, to get in front of those instead of reacting to them."
He also sees that it is business members' responsibility to support their local chambers as well.
"I think all of our businesses have the responsibility to support our chamber in some way, at a minimum through membership," Miller said. "Because the chamber is the only organization, in many communities, that is always there for business and always advocating for us as business people."