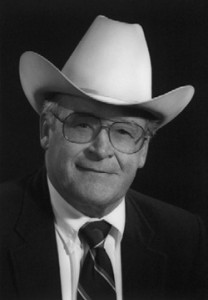 Joe Russ IV, the longest-serving member of the California Chamber Board of Directors, retires from his volunteer position this month, 45 years after joining the Board.
Russ is co-owner of Russ Ranch & Timber Company in Ferndale, the fourth generation of his family to conduct operations on California's North Coast. He also is the owner of Bunker Hill Ranch and a partner in other family operations that include the Lane-Russ Vineyard and ranches in Modoc County and Red Bluff.
"I care for California and I care for the business climate; those have been the two driving factors of my interest," Russ said. He looks forward to seeing successors who "will keep California strong and moving ahead."
In addition to his long service on the CalChamber Board, he chaired the CalChamber Natural Resources Committee for nine years until being named by Governor George Deukmejian in 1986 to the state Board of Forestry and Fire Prevention, serving there until 1994.
In 1987, Russ was recognized for carrying on the family tradition of involvement and leadership in the agricultural and timber industries by being named by his peers as the CalChamber Livestock Man of the Year. His father, Joseph Russ III, received the same honor in 1964.
Russ attended the University of California, Davis, completing his B.S. in commerce at UC Berkeley, where he was on the Senior Honor Guard and a member of the rugby and wrestling teams. Upon graduating, he served in the U.S. Marine Corps Reserve and was part of a Marine helicopter squadron.
He is a past member of the executive committee and board of the National Wool Growers Association, former president and board member of the California Wool Growers Association and a past director of the Humboldt County Wool Growers Association. He has served on committees for the National Cattlemen's Association, was a board member of the California Cattlemen's Association, and is past president and director for the Humboldt County Cattlemen's Association.
A sampling of his other extensive past activities includes: director and chairman of the California State Fair and Exposition; president of the California Future Farmers of America; director for the California Farm Bureau Federation and president/director of the Humboldt County Farm Bureau; regional vice president and board member of the Council of California Growers; president and director of the Forest Land Owners of California; member, UC Agricultural Advisory Committee.
Russ was a member of the Humboldt County Planning Commission for 21 years, including a stint as chairman. He also served for many years on the Ukiah District Advisory Council for the Bureau of Land Management, including chairman for two years.